Scout along The Lakes Way, from Tuncurry to the beaches and lakes of Forster, Pacific Palms, Seal Rocks and Bulahdelah.
Take a journey along The Lakes Way, a winding coastal road past lakes, forests, headlands and lookouts.
There are so many beautiful stops along this journey that you may need more than a full day to see the best of the best.
This scenic drive follows The Lakes Way, a winding coastal road that takes you from the holiday hotspots of Tuncurry and Forster to the mountains around Bulahdelah. These towns are worth exploring so leave plenty of time to visit their local shops, cafes, galleries and parks before continuing your journey on this extraordinary route.
The Great Lakes region of the Barrington Coast is famous for the coastal lakes and headlands of our treasured national parks that are matched with picture perfect beaches of white and gold. Inland near Bulahdelah you'll discover forests of deep green including the tallest of the tall: The Grandis.

And if you like the quiet contemplation of lookouts then don't miss Whoota Whoota, Cape Hawke and Sugarloaf Point, all worthy stops on this sensational journey.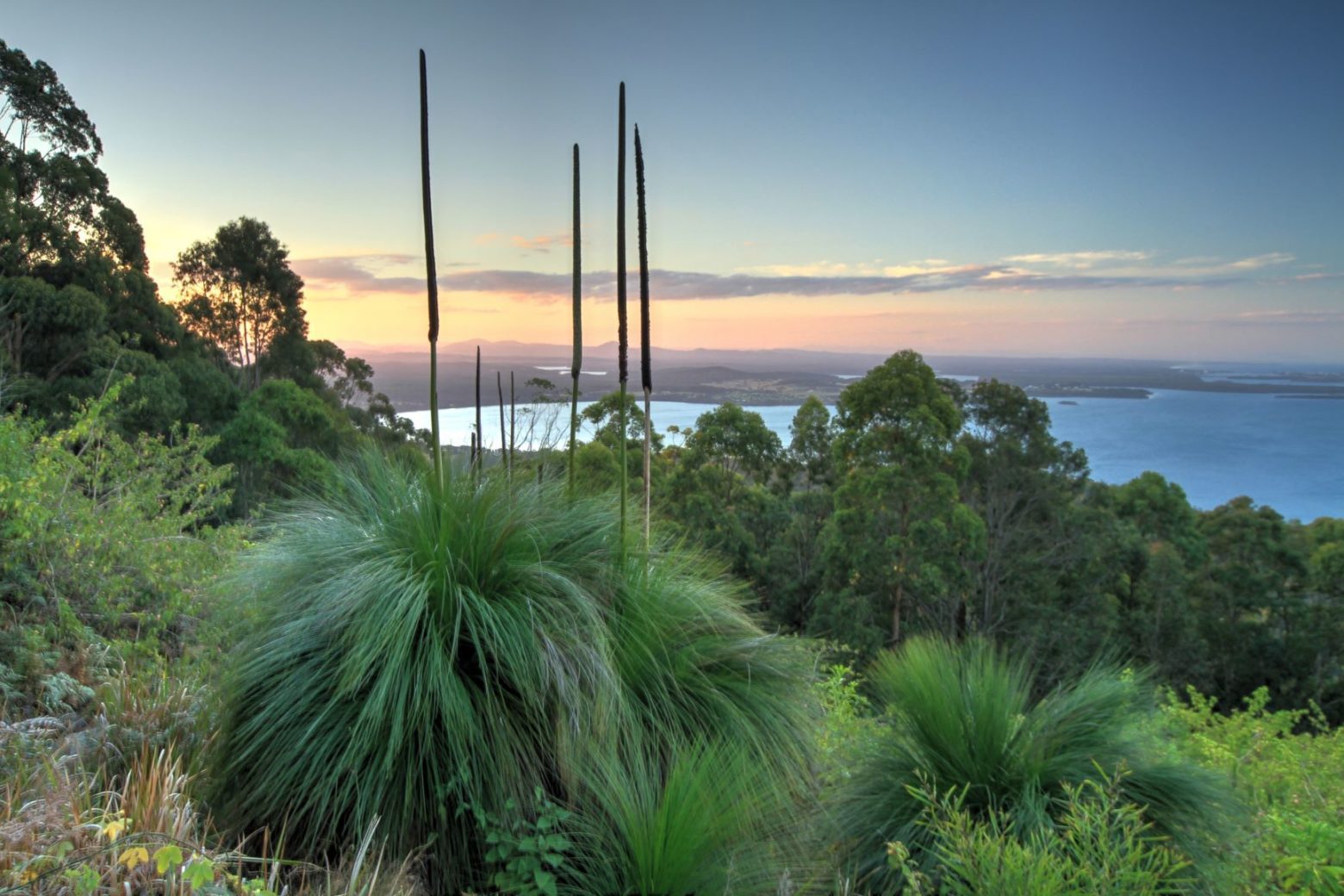 Wallis Lake

Wallis Lake is the sparkling jewel in the crown of the Great Lakes. With a surface area of 99 square km, this aqua blue waterway is famous for white sands, fishing, boating and delicious Sydney rock oysters that are the finest in the country.
Forster and Tuncurry are the twin towns that sit where Wallis Lake meets the ocean, as the Coolongolook River flows into the Tasman Sea. Surrounded by Wallingat National Park on the west and Booti Booti National Park on the east, the pristine waters of Wallis Lake are fed by the Wallamba River, Coolongolook River and Pipers Creek. The lake is 25 km long and nine kilometres wide.
Myall Lakes

The beautiful and remote Myall Lakes National Park offers countless opportunities for adventures, nature based escapes and exploring. The park boasts more than 40 km of beaches, forests, rugged escarpments, endless tracks and trails and spectacular Broughton Island.
The centrepiece of the park is the triple lakes system of Myall Lake, Boolambyte Lake and The Broadwater. This is the state's largest coastal lake systems and is protected by the 1975 Ramsar Convention as being a Ramsar Wetland of International Significance.

Myall Lakes is the state's largest coastal lake system and is protected as as wetland of international significance.
Points of interest
Tuncurry
Known for its natural beauty located on the shores of pristine Wallis Lake, Tuncurry is also a thriving business centre, bustling harbour and tourist mecca offering shopping, recreation and lifestyle opportunities. The town is renowned for its friendly customer service and has ample parking and easy access for locals and visitors alike.
Tuncurry Rockpool: This swimming enclosure is a favourite with locals and tourists. Located at the start of the breakwall with access to Nine Mile Beach, this spot has it all. Follow up a swim or splash about in the rockpool, with a leisurely stroll along the beach or breakwall. Head to the adjacent park and enjoy a picnic or cook up a storm on the barbecue whilst the kids burn off energy on the park's play equipment. Or simply relax and enjoy the view of the dolphins frolicking in the channel.
Forster
Forster is the jewel of the Barrington Coast and the beating heart of the Great Lakes region. Drive over the bridge to Forster and you will instantly see why people love coming back: nestled between Wallis Lake and the Pacific Ocean, surrounded by National and Marine Parks. Just perfect! Within the town there is mainstream and boutique shopping, a huge range of accommodation from private ocean view houses to apartments to motels to lake side camping, award winning restaurants and clubs, a wide variety of experiences and activities and crystal clear water everywhere.

1. Forster Main Beach and Ocean Baths: The beachfront extends 560m from Forster Breakwall to the Forster Ocean Baths. It'a protected beach, making it ideal for families. There is generally not large surf, but if it does get big it has adjacent Ocean Baths. Forster Surf Club is located here and it is framed by Pilot Hill and Second Head, both of which offer nice walking trails.
2. Forster Visitor Information Centre: Your first stop when visiting any country town should the visitor information centre, you'll find helpful volunteers who can give you much more information than you'll find online. And some local tips and secrets too.
3. Pebbly Beach: Pebbly Beach can be found via a short walk along Second Head at Forster Main Beach or you can park your car at the Pebbly Park carpark on Head Street. Pebbly Beach is a good spot for families and despite its name does possess some sand! Either side of the beach are long stretches of round ocean-polished rocks offering great snorkelling.
4. The Tanks: Named after the giant water tanks which once occupied the space, The Tanks swimming hole is a family favourite! Cool off in the crystal clear water and bust out the goggles and flippers for some snorkeling action. Safe in most weather and ideal for small children to explore the rocks and waters.
5. Bennetts Head Lookout
6. One Mile Beach and sand dune
7. Cape Hawke Lookout: Cape Hawke Lookout is a superb lookout that's worth every step of the 500m hike through regenerating littoral rainforest. Pull on your walking shoes and bring some binoculars and a camera – after approximately 420 steps you'll reach an 8.4m tower with 360-degree views of the surrounding area. There's Booti Booti to the south, Wallingat to the west, and on a clear day you can even see as far as Barrington Tops and Crowdy Bay National Park.
Booti Booti National Park
1. Great Lakes Sailing Club: Great Lakes Sailing Club is one of Australia's premier sailing venues on the eastern shore of Wallis Lake within Booti Booti National Park. The Sailing Club picnic area faces away from the ocean and its lakeside beach is just as sandy, the water just as refreshing. Families love this area for safe shallow swimming and shady paperbark trees. Sailing Club picnic area can get busy in summer, but nearby picnic alternatives like Santa Barbara and Elizabeth Beach mean there's enough room for everyone.

2. Santa Barbara Park: At the northern tip of Seven Mile Beach you'll find a rough dirt track which takes you out to secluded Janies Corner, a good spot for fishing and surfing. At the southern end of Seven Mile you'll also find Bulls Paddock, a right hand point break which on a good day will bring a lot of surfers just to catch it. And in between these two points is a long stretch of remote beach. Even in the height of summer you are guaranteed a quiet patch of sand – but be careful as this beach is not patrolled
3. Green Cathedral at Tiona: his majestic open-air sanctuary is a special feature of the region. A beautifully unique place with rough timbered pews and wooden lectern situated under a canopy of rainforest on the shores of the Wallis Lake, this alfresco cathedral is used for weddings, worship, baptisms and funeral services. The Green Cathedral was constructed for public worship and private devotion back in 1922 by the Church of Latter Day Saints.
4. Sunset Park: Relax and enjoy sunset by the lake, you'll see a palate of crimson colours as you share a picnic dinner with your family by the lake at Sunset Park picnic area. The kids will love the knee deep water while you enjoy your dinner and the sunset.
Pacific Palms
Encompassing Blueys Beach, Boomerang Beach, Elizabeth Beach, Tiona and Smiths Lake, there is a special charm that draws people to 'the Palms'. Blessed with sparkling blue waters of the Tasman Sea, Wallis Lake and Smiths Lake and surrounded by lush rainforest, the area is a place of natural beauty. Named after the majestic cabbage tree palms, Pacific Palms blends with the magnificent Booti Booti and Wallingat National Parks and the Port Stephens Great Lakes Marine Park. Scenic lookouts, secluded coves, hidden beaches, famous surfing, coffee shops, galleries and rainforest walks characterise this amazing wonderland.
1. Elizabeth Beach: Elizabeth Beach is the only beach in Pacific Palms which is patrolled in summer. It's part of the Booti Booti National Park and being north-facing makes this beach calmer, so its suitable for families. The beach has a beautiful aspect looking towards Cape Hawke and 7 Mile Beach. There is a cliff track that joins it to Tiona.
2. Shelly Beach: Shelly Beach is a secluded and clothing optional beach. You can reach the beach via a short bush track walk from the road. It faces south west and is completely protected. The swimming and snorkelling here is first class and its aspect creates a sense of remoteness.
3. Boomerang Beach: Boomerang Beach is Pacific Palms' best surfing beach with rock ledges helping to form great waves. The beach is ideal for swimming with protection from prevailing winds at either end. It is balanced at each end with headlands and faces east capturing the best swell from the Pacific and offering brilliant sunrises. The rocky headlands have some great rock pool rambles at low tide.
4. Blueys Beach: Blueys Beach is another renowned beach with great surfing and swimming plus stunning views across to Seal Rocks in the south. Legend has it the beach gained its name from a misadventure by a local cow. Cows can still be spotted on the southern headland.
5. Pacific Palms Visitor Information Centre: Your first stop when visiting any country town should the visitor information centre, you'll find helpful volunteers who can give you much more information than you'll find online. And some local tips and secrets too.
Smiths Lake
Smiths Lakes is the smaller of the region's lakes, but just as majestic. The lake offers warm calm waters, dotted with islands and bounded by national park and the tree-studded township of Smiths Lake. The lake is separated from the ocean by an impressive sandbar formation on Cellito Beach.
1. Cellito Beach: Cellito Beach offers great views south towards Seal Rocks as well as challenging surfing. The timber boardwalk through a rare stand of littoral rainforest ends at the viewing area where you'll often meet surfers checking the break. Behind the beach is Smiths Lake which has great family friendly swimming options.
2. Sandbar Beach: Sandbar is where the 4WD beach access road meets the dunes. The sea entrance to Smiths Lake is often opened up with a grader to lower the water level in Smiths Lake after heavy rainfall so take care on the beach. Take extreme care on the beach during such times.
3. Brambles Reserve Picnic Area: Brambles Reserve is another lakeside gem with a picnic area & direct access to the waters of Smiths Lake.

4. Tarbuck Bay: With lakes, countless mini beaches and plenty of exciting attractions nearby, Tarbuck Bay on Smiths Lake couldn't be more perfectly located for the ideal holiday.
Coomba
Coomba is located on the western shores of Wallis Lake bordering Wallingat National Park and includes Coomba Bay and Coomba Park. This friendly village offers peace and tranquility and has a large resident kangaroo population. It's actually closer to Forster-Tuncurry by boat that it is by car. Coomba celebrates Australia Day each year with its famous raft race and is also a transition for the Forster Adventure Race.
Whoota Whoota Lookout: Whoota Whoota Lookout is one of the best natural viewing platforms on the mid north coast. It provides magnificent views of the Wallingat forests and 190 km of our coastline from Port Macquarie to Port Stephens. Here you will have scenic views of Wallis Lake, Seven Mile Beach, inland to Wallingat River and the Great Dividing Range, and southwards to Seal Rocks.
Seal Rocks
Seal Rocks is a delightful holiday village. It's famous the unspoilt surfing beache plus the spectacularly beautiful Sugarloaf Point Lighthouse. Don't miss the wildness of Treachery Beach and Lighthouse Beach.

1. Sugarloaf Point Lighthouse: Completed in 1875, Sugarloaf Point Lighthouse is the first lighthouse designed by colonial architect James Barnet and one of only two towers in Australia with an external stairway. It was built after a number of incidents, including the shipwrecking of the SS Catterthun and the Rainbow. Despite the coast being illuminated by the lighthouse, 20 wrecks have occurred since the lighthouse was built. Below the lighthouse are the Lighthouse Keepers quarters and outbuildings that have been refurbished to offer holiday accommodation for visitors. On the grassy slopes next to the lookout point and cliff edge, you'll see three memorials dedicated to people associated with the lighthouse. Sugarloaf Point is a top spot for watching whales as they migrate on their journey along the coast. You might also be lucky enough to see dolphins, down on lighthouse beach.
2. Number One Beach: Many people think that Number One Beach (yes, its real name) at Seal Rocks is one of the best beaches in Australia and maybe even the number one beach! Come judge for yourself... the beach, water and views are just beautiful. This beach faces north providing sweeping views back towards Pacific Palms and offering protected swimming. It is also a good surf beach with a rocky headland walk.
3. Boat Beach: Boat Beach is framed by headlands and spectacular rocky outcrops. The steep dropoff makes this beach perfect for landing boats hence its name. The beach here is nearly always quite flat and suitable for families but be careful of those boats coming and going. Snorkelling is good along the rocks and the island off shore called Statis Rock. It is also a haven for divers. When you are there check out the huge shells for sale by the local fishermen and take the gravel road straight up to Sugarloaf Point Lighthouse.
Neranie: Neranie campground and picnic area is a picturesque spot that caters for caravan and tent camping in Myall Lakes National Park. The nearby sandy beaches and shallow water, with a designated swimming zone, make it ideal for little children. The older adventurers will love liloing, canoeing and boating on the calm waters. If you fancy a stroll, try the easy Neranie Headland walking track to the historic cemetery.

The Grandis: The Grandis is a 400-year-old Flooded Gum that pierces the canopy on the western edge of Myall Lakes National Park. At 76.2m high and with an enormous 11.5m circumference at its base, the Grandis rates as one of, if not the tallest tree in NSW. Spared by loggers who extensively harvested the area in the late 1970s, this ancient gum might be matched by taller trees hidden elsewhere in this national park, but nothing detracts from the humbling experience of standing beneath such a giant.
Bulahdelah
Bulahdelah is a country town on the banks of the Myall River near its junction with the Crawford River, named from an Aboriginal word thought to mean "the meeting of the waters". The town is the gateway to the major attractions of Myall Lakes National Park, Bombah Broadwater, Myall River, Bulahdelah Mountain, The Grandis and Bulahdelah Court House.
1. Bulahdelah Visitor Information Centre: Your first stop when visiting any country town should the visitor information centre, you'll find helpful volunteers who can give you much more information than you'll find online. And some local tips and secrets too.
2. Court House Museum
3. Wade Park: Wade Park is the perfect stopover when traveling with kids, they'll love the playground while you set up on the picnic tables.
4. Bulahdelah Trail and Alum Mine Walk: Situated at the base of Bulahdelah Mountain, the former site of the alunite processing plant, the precinct has been transformed into a natural park and picnic area. Also known locally as the Alum Mountain, it includes an aboriginal scatter site, scarred trees, former house site 'Twin Dams' including tramway, mullock heap, boiler wall and clay brick crucible.