Know nothing about art but know what you like? Here's your chance to immerse yourself in the artistic treasures of the Barrington Coast.
Art to look at; art to contemplate; art to buy. Here you'll find cosy galleries, substantial galleries, shop front galleries and artist studios. There are outdoor artworks on pavements and water tanks, even a drive-by gallery. Together they are the Barrington Coast Art Trail: a tapestry of golden threads to follow.
But is it art?
Defining art can be difficult, even Wikipedia states: "Art historians and philosophers of art have long had classification disputes about art and whether a particular cultural form or piece of work should be classified as art."

"Some will say that a work of art belongs to the artist and their intentions. If the artist says it's art, then we must accept it. Others will say that the artist's intentions are not relevant, since the value and meaning of an artwork is an outcome of the viewer's subjective response. And others will assign the meaning to wider historical circumstances, the societal milieu or cultural zeitgeist." (Christopher Jones published in medium.com)

So is it art? You be the judge.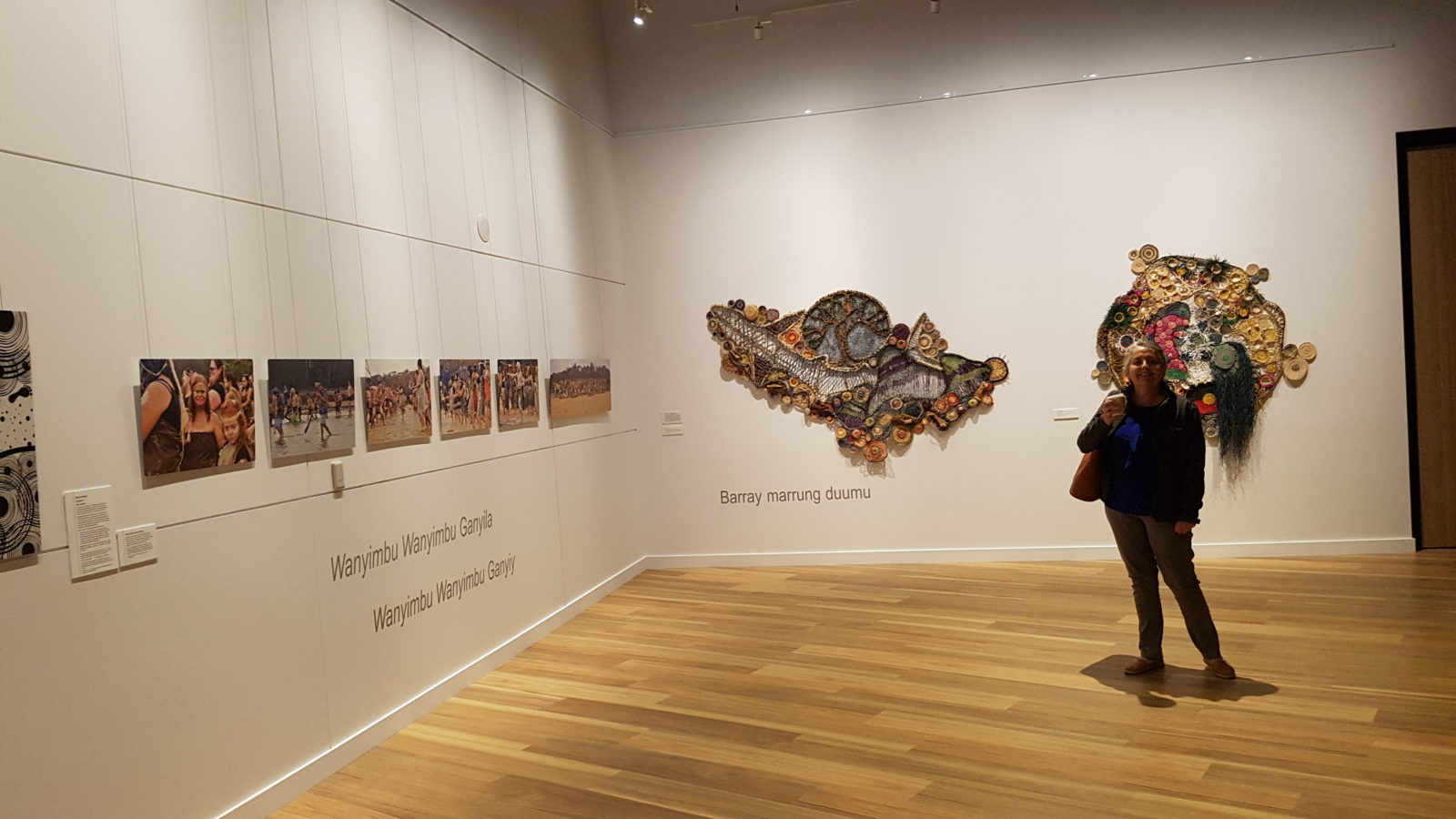 Don't miss these Barrington Coast galleries:
Forster area
Blue Dust Gallery: A bespoke gallery in a café featuring artwork by local and touring artists, this is an exhibition space that caters for all tastes with its abstract pieces, vibrant works, Indigenous art and collectable originals that exude quality. Choose your next art piece over a coffee or with a glass of wine in hand. The gallery is open 7 days a week inside Plunge Café at Forster.
Forster Gallery:Previously known as Lake Street Gallery, this gallery is a community place for art and encourages the development of an appreciation of the fine arts, provides a learning space plus a place for social interaction and cultural sharing. It holds regular art exhibitions and art sales.
Secret Gallery at Kularoo: A unique gallery in Foster selling paintings, pottery, mosaic art, tables, cedar surf boards, cedar fish big and small, art by Kadek and John Osman and more. Come and discover your secret treasure at the Secret Gallery.
Yukul Art Studio:An online prints and custom art store specialising in contemporary Aboriginal art prints, custom works and clothing. All artworks at Yukul are hand painted by Worimi artist Lara Went. Inspiration is drawn from Lara's natural world, the ocean, her children and her culture. Each artwork tells a story, whether it is a life lesson or in the case of a custom work, a personal and unique story. The business is based on her heart… 'yukul' in the local Aboriginal language of Gathang.
Gloucester area
Gloucester Gallery: An inviting space for artists and art lovers alike located in Gloucester's historic School of Arts building. The gallery aims to foster the practice, study and appreciation of the arts in the community by encouraging and supporting artists in their artistic and professional development. Exhibitions change monthly and all pieces are for sale.
Pacific Palms area
CGarrod Art:Catherine Garrod is a visual artist whose environmentally inspired artworks can be found at her studio in Smiths Lake. It's open by appointment or during the monthly self-drive Pacific Palms Arts Trail. Cathie has sold artwork locally and internationally and has won awards in exhibitions. She also conducts workshops in various mediums.
Lake View Gallery: Located in the dining auditorium of the Pacific Palms Recreation Club at Elizabeth Beach, this gallery is an exciting initiative aimed at providing more cultural experiences for residents and visitors to the Pacific Palms area. A rotating 8 week exhibition showcases a small collection of artworks from our talented local artists, all available for sale, and which is included in the monthly Pacific Palms Arts Trail.

Trisha's on Blueys: Blueys Beach artist in residence Trisha Fitzpatrick creates her works in a studio that doubles as a gallery. Trisha has exhibited in Europe and New York and finds her inspiration when immersed in Australia's pristine coastal regions. You'll see the beauty and kaleidoscope of colour showcased in all her pieces. Walk-ins are welcome when Trisha is in her studio, look for the sign out front.
Taree area
Artisans On The Hill: Located at Mondrook, this gallery proudly showcases an eclectic collection of unique pieces made by very talented Australian artists and artisans. Most pieces are one-off so you know you'll be getting something unique in wood, fibres, glass, ceramics, photography and jewellery. With regular workshops and onsite accommodation, this gallery is a destination for creative types.
Deep Water Shark Gallery:A family operated Aboriginal art gallery making traditional and contemporary art for over 20 years. The shop gallery in Taree carries a wide range of artworks for sale, from large paintings, clay and wood sculptures, to small cards and gifts. The artists are family members and are proud Biripi/Worimi people honoured to carry forward their culture and creations to the wider community.
Manning Regional Art Gallery:The jewel in the crown of Barrington Coast galleries, this regional gallery is a vibrant cultural hub in Taree. It champions the creation, understanding and appreciation of the arts. There's a calendar of regular workshops and professional development opportunities to emerging and established artists. An essential part of the gallery's vision is to present art to audiences that's reflective of the community including aboriginal cultural stories of the area, reflections of the local landscapes and personal and artistic journeys.
Yalawanyi Ganya: It may be the smallest gallery in our region but it's absolutely worth visiting. Located in the foyer of Yalawanyi Ganya next to the Council Chambers, the exhibitions here come via the Manning Regional Art Gallery.
Tea Gardens area
Galleries In The Gardens: Original art created by a community of local artists inspired by the unique natural beauty of Tea Gardens and Hawks Nest, a picturesque community nestled between the river, ocean and bay. Set within lush shady gardens on the Myall River waterfront in Tea Gardens, The Gallery cottage brims with displays including paintings, ceramics, drawings, sculptures, etchings and prints, photography, original artwork cards, jewellery, scarves, books and more.
Barrington Coast outdoor art:
Appreciating outdoor art is a whole new level of contemplation. Installation art is an artistic genre of three-dimensional works that are often site-specific and designed to transform the perception of a space, indoors or outdoors.
Art in public spaces is truly immersive: in a park, on a beach, on a building or structure. Stop, contemplate and see if the artwork changes your perception of these places around the Barrington Coast:
Barrington water reservoir: This new outdoor art installation is located on a water storage tank at Barrington's Argyle Street. Rather than covering up the unique form of the reservoir with paint, this 3D artwork captures the natural deterioration of the surface and adds to it. Entitled 'Undertow', the design features a field of cicadas and stars studded like rich jewels across the tank's surface, prompting viewers to consider the complex and concurrent cycles of life. The cicadas are made of corten steel that weathers quickly into a brilliant rusty orange while the stainless steel stars will remain bright and shiny for their lifetime. Landscaping and interpretive signage are being installed. The artist is Luke Grey from the architectural design firm Curious Practice.
Bobin Community Hall: Rebuilt after the disastrous bushfires of 2019, the hall and grounds now boast murals on new structures painted by locals. The artworks are colourful and lift the spirit. Job done.
Gloucester Mosaics Walk: Take a stroll around Gloucester past mosaics on walls and on footpaths scattered around the town centre. They depict stories of Gloucester from the earliest days to the present time. There's even some works that Gaudi would be proud of: planter boxes and creative seating in the Meeting Place in Denison Street plus the large platypus covered in mosaic tiles in Billabong Park. Approx 1.0km on flat ground and allow one hour.
Myall Riverside Art Walk: Wander along the Myall River foreshore at Tea Gardens and the tree lined streets of Hawks Nest, you'll find a selection of art installations - from murals to sculptures to mosaics and poems! These interpretive works form the Myall River Art Walk - a project that encourages and fosters local art and artists, helps to develop community pride and awareness of our culture, history and environment - and tells visitors about our unique area.
One Square Gallery: Absolutely unique, this drive-by gallery at Blueys Beach is a creative street art concept that showcases artworks on the exterior wall of Blueys Motel. The outdoor gallery resonates with the relaxed, casual lifestyle and natural beauty that locals and visitors experience when exploring the region. All artwork displayed measures one square metre and gives artists of all mediums the opportunity to show-off their talents. And they're all for sale via the artists' Instagram tag shown on each piece.
Tea Gardens water reservoirs: Artist Jordan Lucky of Playstate is adding bright colours to two reservoirs on Viney Creek Road at Tea Gardens. Jordan is a professional creative specialising in large scale murals and has extensive experience painting life-like murals of Australian flora and fauna. He has a strong connection to the Port Stephens area and his Tea Gardens artwork incorporates local plants and animals.
Barrington Coast photographers:
Photography has been an art form since the first photograph was taken in 1826 by Frenchman Joseph Niepce. Two centuries later, the art world has fully embraced it as a legitimate medium, equal in status to painting and sculpture.
Here are a few suggested local photographers whose work you can find online and occasionally at local markets:
Is it art? You be the judge.