Driving on the beach is a great way to explore the coastline of the Barrington Coast. It also allows you to get to some pretty amazing spots that are normally inaccessible.
There's something great about pulling up, hopping out of the car and being exactly where you want with everything you need.
Call me lazy but it also means I'm not lugging all the gear that comes with visiting a beach with a small family - towels, sunscreen, umbrella, snacks, beach games, chairs etc. There's something great about pulling up, hopping out of the car and being exactly where you want with everything you need.

We're lucky enough to have several beaches to drive on in the Barrington Coast. I've compiled a list of my favourite beaches to drive on and why.

Do remember that driving on a Barrington Coast beach is a privilege. If you decide to go driving on a beach please do so responsibly and ensure you have the correct permit.
Tuncurry Beach/Nine Mile Beach
Permit required: MidCoast Council Beach Permit
Highlights: a long beach, two access points, dog friendly
Entry difficulty: Easy/medium
Tuncurry or Nine Mile Beach is the most popular beach to drive on in the Barrington Coast.
It's quite a stretch of sand (10 km+) meaning you can always find your own section of beach to park up on, away from others. Nine Mile is also dog friendly and you will often see people walking the beach from point to point with their pooches. Horse About Tours use the beach for their rides meaning you will often see people riding down the beach which is also pretty cool.

High tide creates rock pools around the exposed rocks that kids love to splash around in.
The northern end is great for kids. High tide creates rock pools around the exposed rocks that kids love to splash around in.

One of the benefits to visitors is that the beach has two access points - one in the north at Black Head and one in Tuncurry. My family and I will often enter the beach at Tuncurry, spend some time on the beach and then drive to Black Head to exit the beach and travel the Lakes Way home (after some refreshments at Hallidays Point Tavern).
The Black Head entry is very easy with a level dirt road leading on to the sand. Access at Tuncurry can be a little tricky. It's uphill and can be on soft sand especially during the busier times of the year such as school holiday time or during the mullet run where professional fisherman use the track daily. It's a single lane, entry/exit so you need to take caution whenever using this access. If you see someone stuck on the track, it's always nice to see if you can lend a hand. You never know when you might need similar help in return.
Little Gibber, Hawks Nest
Permit required: NSW National Parks Permit
Highlights: stunning location, difficult to get to by foot, great in NE winds.
Entry/exit difficulty: Easy

I love a day out at Little Gibber! I remember the first time I discovered this piece of paradise. Prior to owning a four-wheel drive, I'd parked my car along Mungo Brush Road for a walk amongst the sand dunes of Dark Point. I made my way over the dunes towards the coast before heading up one last dune to discover this secluded beach amongst the rocks. Four-wheel drives lined the white sand while people swum, SUPd, snorkled and surfed the crystal clear waters. I knew instantly I had to come back here but looking back at the huge dunes I'd covered to get there, I knew I wouldn't be able to get the family here. Fast forward a couple of years and the family is in the new four-wheel drive and we're heading to the place I'd been talking up for years. We were not disappointed!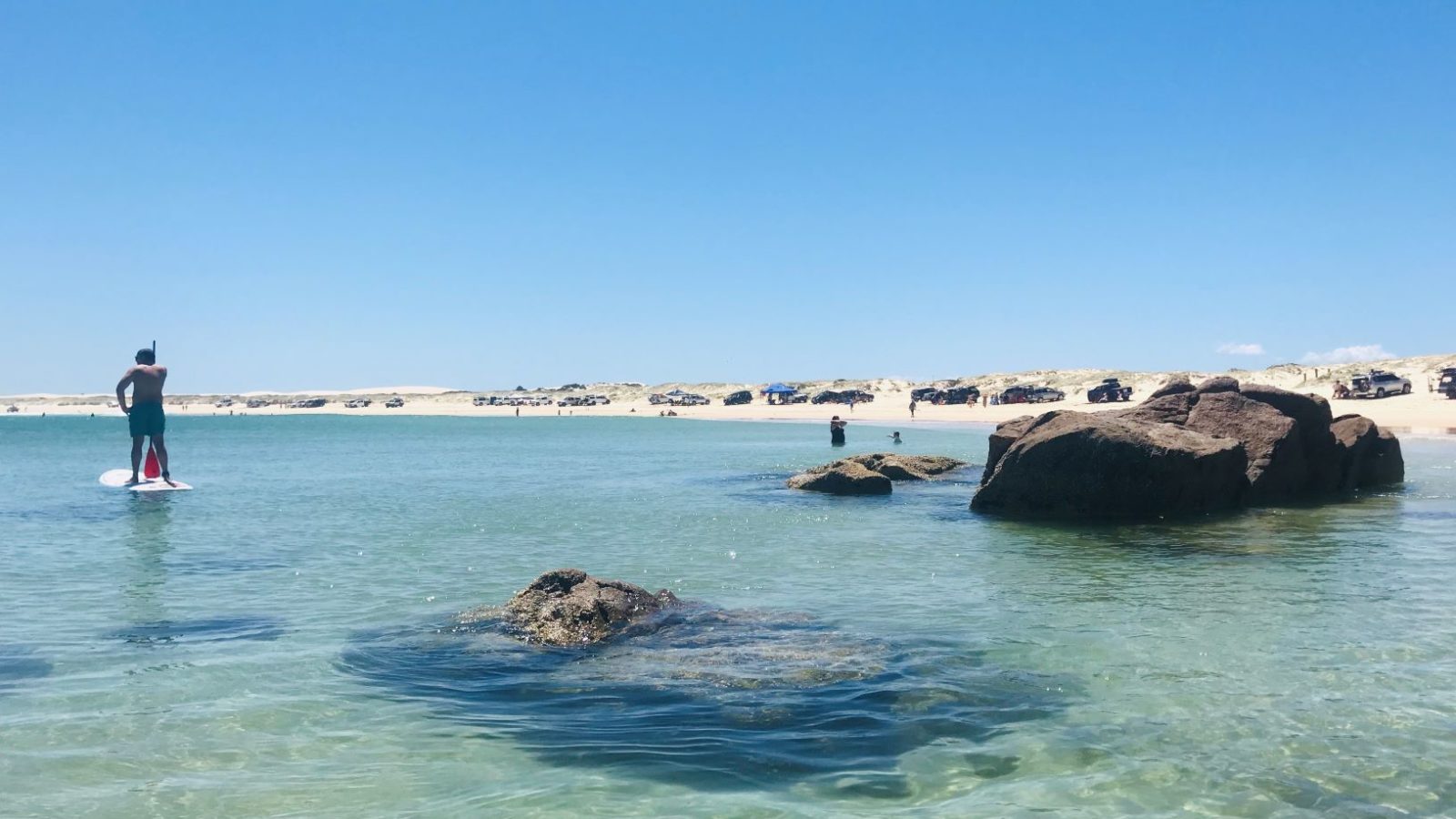 Because Little Gibber is such a mission to get to by foot, you really feel like you and the others there are in an exclusive little club and the only one's that know about this beautiful place.
We make a trip here from Forster 1-2 times a year. I've now taken friends who have lived in the area their whole lives and like me, they are amazed at its beauty and have become regular visitors.
Hot tip: Little Gibber is a great place to escape the north east winds that often hammer the coastline over summer. On one side of the gibber it can be wind blown with whitecaps in the water with the other side having hardly a breath of wind and the water clear and calm.
Little Gibber is part of Myall Lakes National Park so leave the dog at home for this one.
Sandbar Beach
Permit required: MidCoast Council Beach Permit
Highlights: rivermouth (when open), secluded location, hard to get to on foot, great surf
Entry/exit difficulty: Easy/medium
In my opinion, Sandbar Beach is home to one of the most beautiful spots on the Barrington Coast. The thing is, it only happens every few years!
For those that don't know, Smiths Lake is manually opened to the ocean when it reaches a certain height. The incoming and outgoing tides create an oasis in the lake with crystal clear pools forming along the lakes edge. On sunny days, the lake resembles something like Whitehaven Beach or even the Maldives!
Affectionately known by locals as the 'Rivermouth', the inlet can remain open anywhere from 1-3 months. Surfers flock to the ocean side to catch the breaks made by the sand banks created by the outgoing water of the lake.
The fact that this scene only happens so infrequently makes it like an event. It's a bit of a hike along the sand to get here on foot but is well worth it if you do not have access to a four-wheel drive.
The southern end of Sandbar Beach is another favourite of ours and can be accessed when the inlet closes up. This section of the beach is really nice and popular with surfers. It's pretty secluded and you won't find too many others down this end. My friends and I often make a day of it down here, packing the BBQ for a cook up under the awning shades of 3-4 four-wheel drives.

Entry and exit to Sandbar can be a little tricky. You need to take care as it is a single lane. I've always been told to stay on the high track to stay out of trouble and it has proven a great tip.
Lighthouse Beach, Seal Rocks
Permit required: NSW National Parks Pass
Highlights: great place to escape NE winds, good surf, nearby walks
Entry/exit difficulty: Easy/medium
I'm a big fan of Lighthouse Beach in Seal Rocks, especially in summer. Normally the north east winds pick up making a lot of the beaches blown out and not a nice place to be. The southern beaches of Seal Rocks including Lighthouse, Treachery and Yagon are protected from these winds making them simply stunning in the summer months.
At the northern end of the beach sits Sugarloaf Point Lighthouse. Standing on the rocky headlands above the beach, the lighthouse is accessible from the beach making for a great walk especially if you park at the northern end.
The northern end is also great for exploring at low tide when small beaches become accessible around the rocks. Just make sure you don't drive in there and then get stuck when the tide comes up!

If you don't have a four-wheel drive you can still get to this beauty quite easily - either from the Lighthouse track or by parking in the car park along Treachery Road (where the 4wd access is).
Lighthouse is becoming a popular beach for four-wheel drives. It's not uncommon to see 30-40 cars parked along the beach. This might seem like a lot but there is still plenty of room for everyone along the 2km stretch of sand.
Access to the beach is down a narrow, single lane track with sand walls on either side. Take care entering and exiting as you may need to stop and reverse to let people through.
Those are my favourite beaches to drive on in the Barrington Coast. We are lucky to be able to drive on some of the beaches. Visitors and locals should treat it as a privilege and do the right thing to make sure we are allowed to do it for many years to come.