At Forster Dive Centre we pride ourselves on marine conservation.
Join our PADI scuba instructors and discover some of the most beautiful dive sites on the Australian east coast: grey nurse sharks, turtles, dolphins and octopus are just some of the amazing creatures waiting for you!
After 3 years travelling around the Pacific, Australia, Fiji, Samoa and New Zealand, we decided to call Forster home! In 2020, in the middle of the Covid19 crisis, we had the crazy idea to reopen Forster Dive Centre to share our passion: scuba diving!
Fresh new look, logo, shop and more!
We specialise in small group diving, to give the best experience to divers and share a real personal moment together. This ensures everybody has an amazing time and we share our knowledge as much as possible.
We pride ourselves on marine conservation.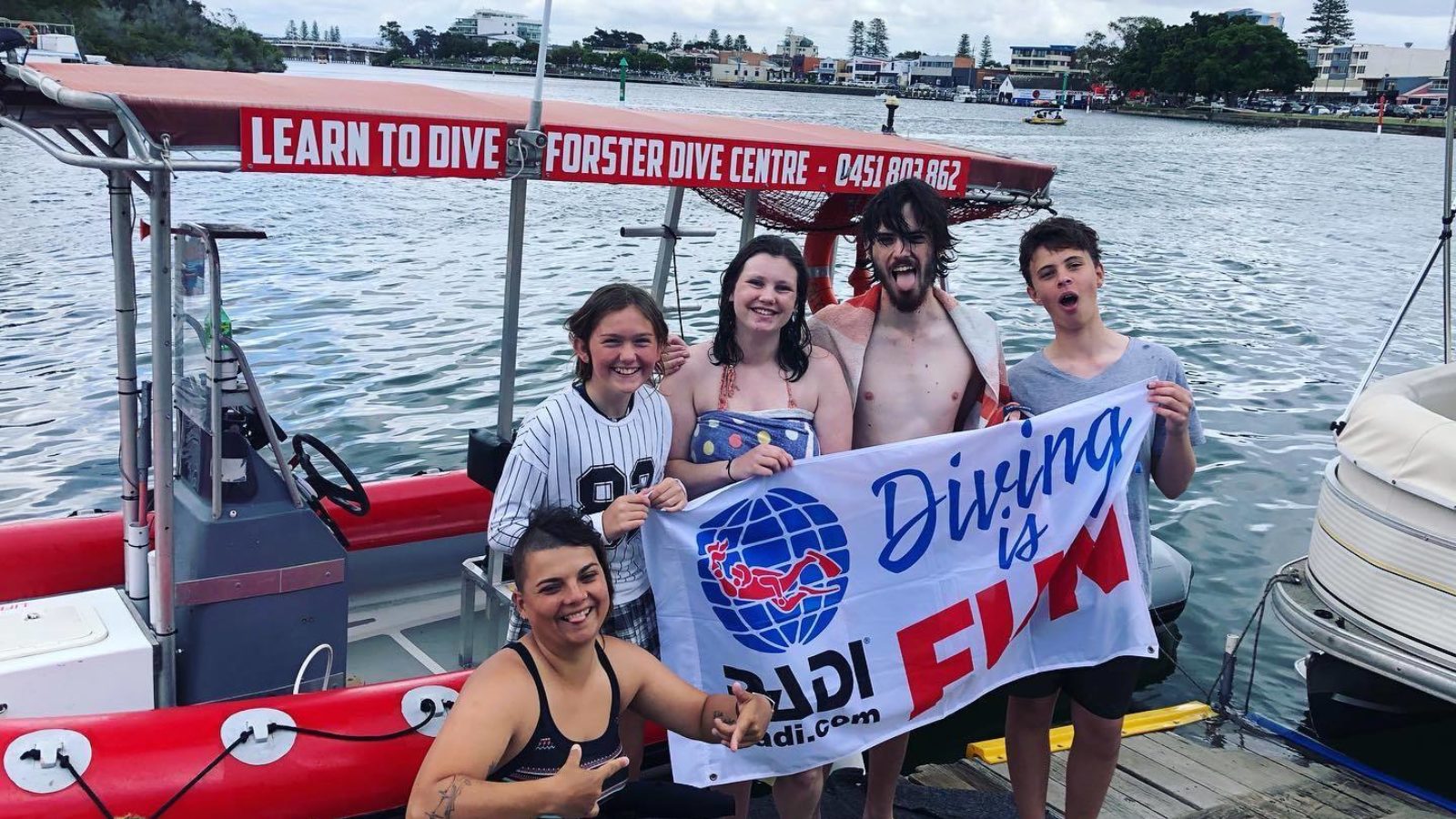 What did others have to say?
Allan Smith
a month ago
Thankyou Adam and Emily for helping me complete my Open Water Certification. Your local knowledge and experience made this a great day. Looking forward to more dives with you guys. So much more to explore around Forster.
Graeme Poleweski
2 months ago
I had my first dive in a long time today and Adam and Amelie were fantastic. We had a single boat dive near Pebbly Beach with the intent of seeing some grey nurse sharks and boy did we see some! Amelie was a great guide on the dive, pointing out cool things and keeping an eye on us. The vis was a bit poor but the sharks got up close and personal to make sure they knew we were there. A fantastic reintroduction to diving thanks to Amelie and Adam. It's hard being out of the game for so long but having such good operators made it really easy, fun and enjoyable to be back.
Rebecca Edwards
4 months ago
Had a lovely day of dives with Forster Dive Centre, would highly recommend them! Adam and Amelie were super friendly and knowledgeable. They gave us different dive options, making for a good day out despite the low visibility. Thanks guys! Also, the home-made cookies between our dives were 10/10
Leigh MacBeth
a week ago
Amelie and Adam were so patient with me. My anxiety being under the water was through the roof but these two were amazing and had me down and in in no time. Thank you both!!
Amanda Pettersen
4 months ago
I would highly recommend Forster Dive Centre. Adam and Amelie were so accommodating in making sure we had a fantastic day of boat diving. While the weather was forecast to be ok, the wind picked up so we spent a while finding a decent dive site. They were so patient and asked us what we would like to do/felt comfortable with every step of the way. My first dive with grey nurse sharks at Forster Dive Centre was very memorable and I hope to be back again soon!