Who needs to travel to the Hunter Valley with so many good wineries right here in the Barrington Coast.
No, we're not part of the Hunter Valley but we proudly possess some of the prettiest wine-producing valleys on the mid north coast of NSW. And scattered like pearls through these valleys are vineyards with wines you'll want to keep room in your car boot for. You may even discover a few interesting grape varieties to add to your list of "do try this".
All of these lifestyle wineries require advance notice for your cellar door tasting trip, so make sure to ring ahead. Here it's most likely that the owners will greet you and serve you. They all have interesting tree-changer stories to share.
Some have regular food and music events, and you can even stay in onsite accommodation. When was the last time you slept amongst the grapes?
Nestled into the southern rise of the Buccan Buccans, the Gloucester River Winery enjoys the most scenic setting of any winery in the Gloucester valley. You'll love the intimate views of this stunning rocky outcrop also known as the Bucketts Mountains. Owner and winemaker John is passionate about his preservative-free wines, do try his chardonnay, his rose and more! John and Kate are excellent hosts with many stories to tell, and after your wine purchases you can set up a picnic on the banks of the Gloucester River and contemplate life in the country. Tempted?
You'll love the friendly owners John and Debbie who offer intimate wine tastings in their garden overlooking the vines in the rolling hills just east of Gloucester. Their verdelho, rosé and shiraz-chambourcin comes highly recommended by the locals, many of whom volunteer to pick grapes at each vintage. Sit back and soak up the magnificent view as you enjoy a fine wine experience.
This winery near Gloucester is purpose-built and is movie-star worthy! Mograni Creek Estate is set on 100 hectares with beautiful park-like grounds and sweeping views across the valley. Their charming cellar door building is based on an English barn in Windsor and was faithfully reproduced down to the English Bond brickwork.

Steve and Ros are the friendly owner/growers. Call ahead to taste their traditionally made wines from grapes grown and hand-picked right here on the estate. Wine tastings for individuals or groups are available by appointment and cheese platters can be provided by prior arrangement.
And if you want to stay overnight then the cottage is a delightful dream to complete your winetasting.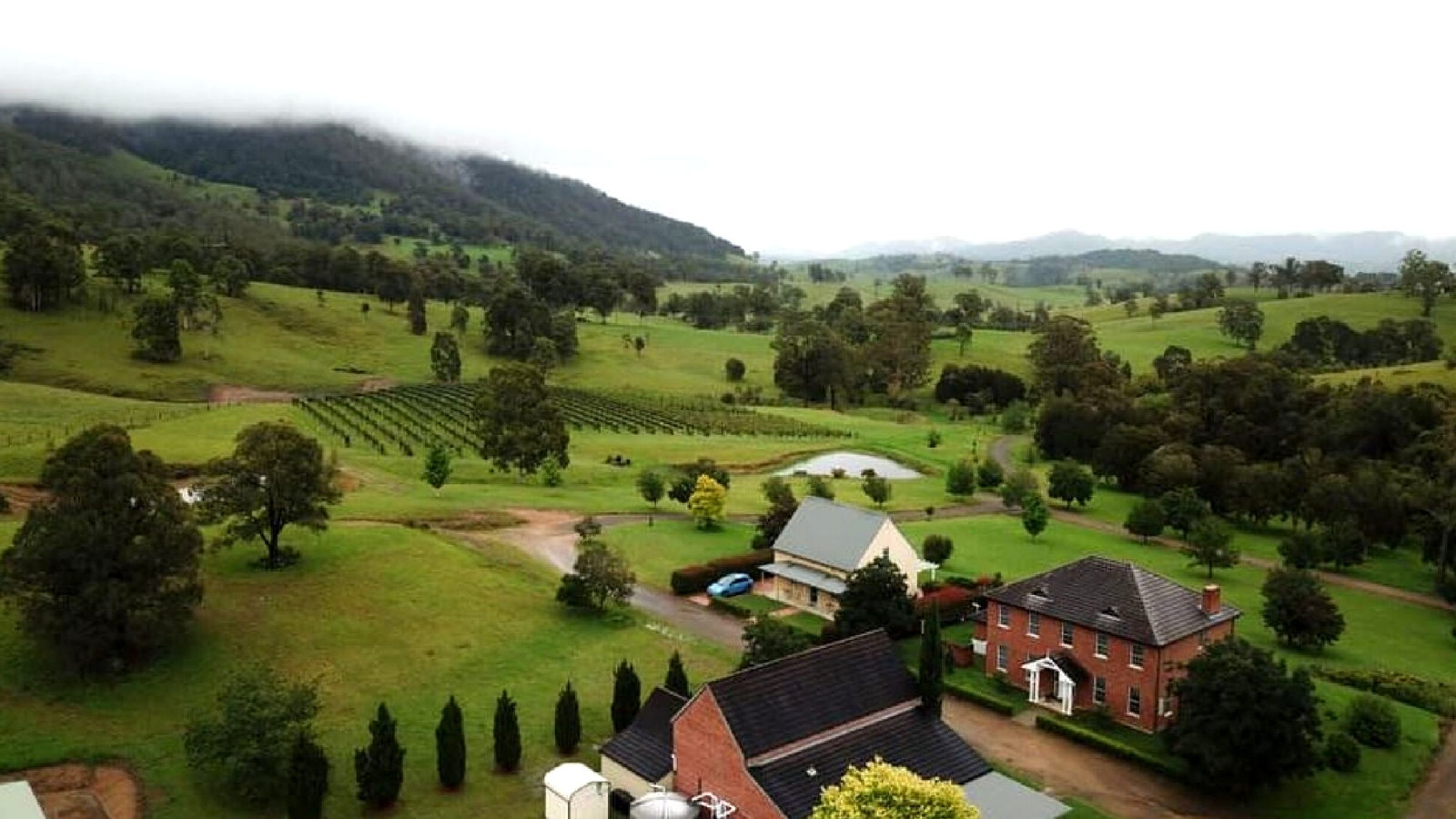 Located in the pretty village of Stroud Road, Gap Hill Wines specialises in quality verdelho wine that's dry, fresh, fruity, flavoursome and popular. Cellar door tastings by appointment or you'll find their wine at selected local eateries too. It goes with almost every food! Owner/grower Brian loves a chat and a laugh, you'll feel like you've made a friend by the end of your visit.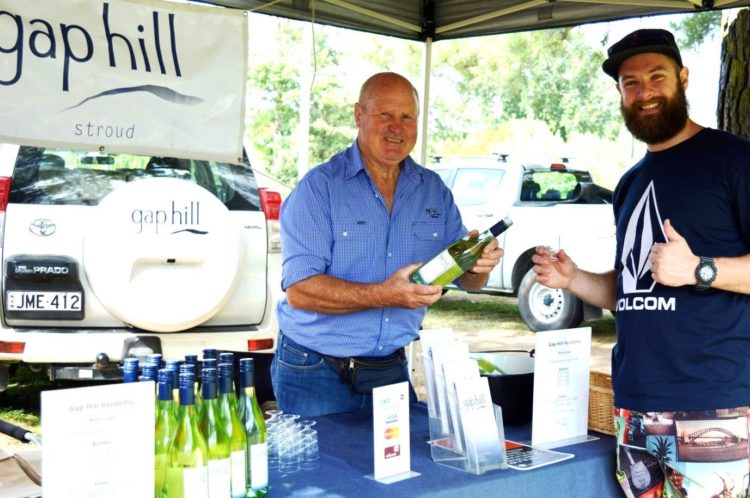 What's your flavour? Villa d'Esta Vineyard at Dyers Crossing produces small runs of soft, easy to drink classic wines. All vino options here are made with traditional Hungarian techniques and matured in oak barrels. There are 5 hectares of grape vines at Villa d'Esta, the majority of which are chardonnay, chasselas doré and chambourcin grapes but you may also find smaller plantings of pinot noir, merlot, cabernet sauvignon and shiraz grapes too. What blend of grapes will you get to sample when you visit? Your hardest job is deciding which new favourite to take home with you… eeny meeny miney mo?
A vineyard plus a cattle farm plus a music event venue, at Great Lakes Paddocks you're pretty much in the right space for whatever you may be seeking. Famed for its pasture raised Angus beef and delicate yet bold wines, this destination is a sure fire way to impress your family and friends. They also host regular events with live music so you can settle back into a deliciously relaxing country picnic with style. First things first, order a cheese platter paired with their delightful selection of wines and then unwind in style. Are you relaxed in a country-style way yet?
The grape growers here sure know their stuff, producing beautifully crisp, clean and vibrant wines near Bulahdelah. Try the multi-award winning verdelho or sparkling frizzante. Plus add a little holiday knowledge to your wine expertise with a tasting of their sparkling espu'delho (hint: it's a prosecco-style sparkling verdelho "well-balanced with a fragrant nose".) Sure, I'll try that.
And finally, if you can't make it out into our green and beautiful hinterland for cellar door tastings, then look for these quality wines at your nearest farmers market or liquor outlet within the Barrington Coast.
Feature Image: Great Lakes Paddocks, courtesy of Destination NSW.