You'll always remember the first time you saw snow.
Enjoy today, gone tomorrow. One of the most beautiful aspects of snow is that it's so very fleeting, especially in Australia. People always remember the first time they saw snow, here's how to find it in Barrington Tops.
Barrington Tops is the highest part of the Barrington Coast. It's also the highest point on the Australian mainland outside the Snowy Mountains and gets a regular dusting of snow each winter. You'll be enthralled by high altitude ancient rainforests, tree ferns, snow gums and exhilarating mountain views, especially when they're wearing a fresh snow blanket!
For those watching the current snowfall forecasts…be informed with this essential advice! #StaySnowSafe
Where can I see snow?
**NB. Always check latest travel advice for road closures and weather warnings **
It all depends on the intensity and the lowest altitude of the snowfall event. The highest part of the Barrington Tops parkland is around Polblue Campground and Picnic Area, so usually this is the best place to see snow. But you may also see snow at The Firs or at Honeysuckle Picnic Area, depending on the snowfall event.

Polblue camping area (1450m), Thunderbolts Lookout (1440m) and Devils Hole Lookout (1400m) on Barrington Tops Forest Road are good places to start.
If snow falls to lower altitudes, snow on the ground can often be seen at these places north of Barrington Tops:
Thunderbolts Way near Topdale Road (bitumen road)

Nowendoc vicinity (bitumen road)
Nundle vicinity(mixed bitumen & gravel roads)
Walcha vicinity (bitumen road)
Barrington Tops Forest Road
** Travel advice: check Live Traffic for the latest road closure updates for Barrington Tops Forest Road (eastern side). As at May 2022, Barrington Tops Forest Road eastern access remains closed. The western side of Barrington Tops Forest Road is still open. **
The main access road to Barrington Tops is Barrington Tops Forest Road, also sometimes known as the Scone to Gloucester Road. Much of this road is unsealed which can present an additional hazard during a snow event. If this road deteriorates it can be closed to all vehicles to ensure the safety of visitors. Road closures are at the discretion of the Local Emergency Management Committee and local police. For up-to-date information about closures go to the NPWS Alerts.

Thunderbolts Way near Nowendoc
In a widespread snow event visitors seeking to avoid driving on the unsealed roads of Barrington Tops occasionally access snow via Thunderbolts Way around Nowendoc. The steep incline of the Thunderbolts Way can be hazardous due to black ice. Drive to the conditions and check on road conditions prior to travel. Most importantly, make sure you know how to drive the descent from the plateau in your lowest gear including automatic vehicles.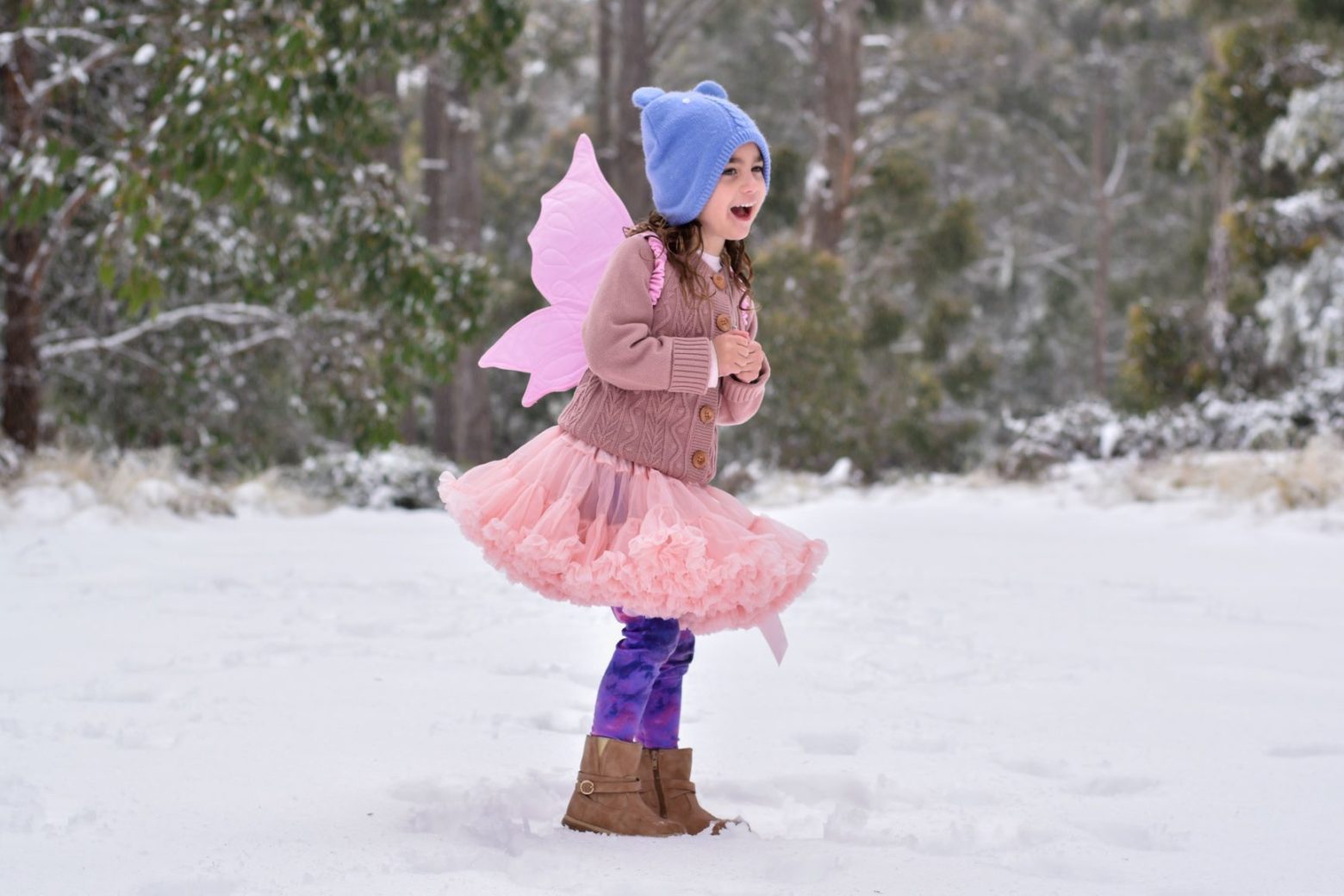 When will it snow?
Snowfall is most likely in Barrington Tops from May to August and are usually of very short duration. Tracking the Barrington Tops weather reports at the Bureau of Meteorology will keep you up-to-date with changing weather conditions including snowfall events.
Can I take my dog to the snow?
Parts of Barrington Tops are National Park and other parts are State Forest. Dogs are not allowed in National Parks but they are welcome in State Forest areas. Get a good map of the parklands from Gloucester Visitor Information Centre that shows the boundaries. Snow can fall in Stewarts Brook State Forest and Barrington Tops State Forest but wherever you go please beware of the possible use of 1080 bait.
Using your GPS
To see snow, head to the highest part of the park that you can drive to: Polblue Campground and Picnic Area. When driving on the Barrington Tops plateau, GPS and phone coverage is intermittent so pick up a real map and get more information about road conditions from Gloucester Visitor Information Centre.
Be prepared! Snow = very cold
Overnight temps drop below zero.
Wear warm clothes and enclosed shoes.
Pack extra warm clothes, blankets, extra food and water (especially if you're travelling with children).
Before leaving home
Check the weather forecast with the Bureau of Meteorology.
Check if the roads are still open, call Gloucester Visitor Information Centre 1800 802 692
NSW Police can close the road at short notice or during your visit. Access to snow covered areas can be closed or you may have to turn back after a long journey.
Delay non-essential travel in extreme weather and poor road conditions.
Barrington Tops is a remote location
Mobile phone reception is limited, confined to a few small sites and even where present, only available to limited service providers. Reception may be possible on ridge lines.
GPS devices and phone coverage is intermittent. We recommend a real map & the latest advice from a local visitor information centre.
Maps can be picked up at the Gloucester Visitor Information Centre 1800 802 692
Beyond Barrington village there are no shops or service stations with limited visitor facilities and shelter. Be prepared for rapidly changing extreme weather including rain, wind, and sub-zero temperatures.
Drive to the conditions, for your safety & others on the road
Barrington Tops Forest Road is mostly unsealed road in variable condition. It can be corrugated with pot holes. It's not a race!
The roads leading up to the plateau on both sides are steep, narrow and winding. The road is now bitumen sealed on the Gloucester side all the way to the park boundary.
Ice and snow can make driving on Barrington Tops roads extremely dangerous, even for 4WDs.
4WDs are better suited for driving in snow and ice conditions, so leave the two-wheel drive at home.
Annual winter closure of 4WD trails
The following 4WD trails on Barrington Tops are closed to all vehicles each year from 1 June to 30 September:

Barrington Trail (south and north)
Paddys Ridge Trail
Butchers Swamp Trail
Bullock Brush Trail
Tugalow Trail
Thunderbolts Trail
When the above trails are closed there is no vehicle access to Little Murray, Junction Pools and Gummi Falls campgrounds.