The top walks that locals love around Old Bar and Wallabi Point.
The Manning River is a unique double delta system and sitting near its southern mouth are the quiet coastal villages of Old Bar and Wallabi Point. Locals here know where to find a good walk, so follow their suggestions here.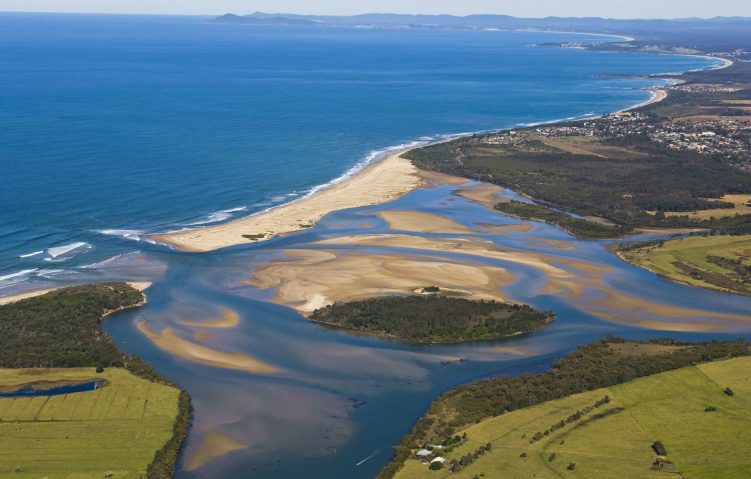 Easy walks around Old Bar and Wallabi Point.
Old Bar is famous for the 9km sandy spit from Manning Point to Farquhar Inlet, which then extends another 5km south to Wallabi Point. This beach feels wild and remote. In the early hours you will experience some of the best sunrises here... must stop and stare kind of skies. Wallabi Point is blessed with long beaches that surfers love: the southern end of Old Bar Beach plus Wallabi Beach stretching south to Saltwater Point. If you've walked these long beaches already then try these other walks nearby.
1. Old Bar Park Environmental Walk

START: Old Bar airstrip on Old Bar Road
DISTANCE: 5km
DURATION: 2 hours
GRADE: Easy/moderate
Old Bar Environmental Walk was an initiative of the residents of Old Bar. Tracks that were once degraded are now enhanced and offer an easy walk through Old Bar Park to Farquhar Inlet, one of the two mouths of the Manning River.
The timber bridges and walkways help protect the semi-permanent waterways and help with the preservation of the botanical significance of the park. This walk construction was a labour of love by locals, so please enjoy it with the respect it deserves.
2. Five Islands Track, Saltwater National Park

START: Saltwater Picnic Area, Saltwater National Park
DISTANCE: 3km
DURATION: 1 hour
GRADE: Easy
Saltwater National Park may be small but it's impressive. Aboriginal heritage is plentiful in the national park and you'll see traces of their heritage in the form of scarred trees, middens and fish traps.

On the Five Islands Walking Track you can explore the surrounding saltwater and freshwater environments. Setting out from Saltwater picnic area, this flat to gently rippled walk meanders through coastal heath and paperbark swamp before it crosses over Saltwater Gully, where you'll enter Khappinghat Nature Reserve in the west.
Saltwater Gully forms part of a system of waterways which means you'll experience rainforest, mangroves, salt flats, sedge and wetlands, all in one walk. Khappinghat Creek, where you can see the 'five islands', is the largest area of undeveloped wetlands and the only naturally opening and closing estuarine system on the mid north coast of NSW.
3. Headland Track, Saltwater National Park

START: Car turning circle at Saltwater Headland
DISTANCE: 0.7km return
DURATION: 15-30 minutes
GRADE: Easy, flat with occasional steps
Once you've explored Khappinghat Creek on the Five Islands Walking Walk, don't miss the awesome coastal views on the Headland Walking Track. This short, leisurely stroll takes you to the observation platform at the edge of Saltwater Headland. Here you'll enjoy expansive vistas over Saltwater Beach, Khappinghat Creek and the Pacific Ocean. It's the perfect place for whale watching.