The secret is out... cubby houses for grown-ups.
What is it about tiny houses that makes them so appealing? In an age of oversized homes serving up multiple media rooms, kids' lounges and separate retreats for parent and teens alike, maybe it's the simplicity of having 'just enough'. It's like cubby houses for grown-ups… with just enough space to feel relaxed and comfortable in this particular moment.
Our selection of tiny houses and eco cabins meet 21st century expectations of adult cubby houses: best enjoyed with stylish interiors and suitable amenities for your modern comfort. Most importantly, these are a little bit out of the way, in slightly hidden corners, just like your cubby house as a kid. Here you can relive your childhood memories: that small space for your neighbourhood gang, a secret society or maybe even your first kiss?
And with their eco credentials, staying in these tiny houses for your next getaway will make you feel all grown up, knowing you're treading lightly on the earth even while on holiday.
Set high amongst the gum trees on the Buccan Buccans overlooking peaceful Gloucester, The Ridge Eco Cabin features panoramic views of the surrounding valleys. It offers a low-key getaway with privacy and comfort, with special touches of bespoke rustic luxury surrounded by exquisite natural beauty. The cabin is designed to minimise ecological impacts with energy efficient design, off-grid solar power system, water self-sufficiency and the use of sustainable and recycled building products. But you're really here for the views… and the bath that looks out onto those views. If this was my cubby house as a kid, I would've never wanted to grow up.
Myall River Camp is a serene, sustainable riverside bush retreat at Hawks Nest. It's a place to connect with nature, unwind and explore. Perfectly located, it's just a stone's throw to white sandy beaches and Myall Lakes National Park. Myall River Camp offers picturesque campsites and exceptionally beautiful glamping tents but you'll love their rustic tiny houses. If you're a fan of the Three Rs (Reduce, Reuse, Recycle) then these are just what you need to unplug from modern life but with the conveniences you crave. Solar powered, the tiny houses here are constructed using recycled corrugated iron, reclaimed windows and scrap timber. But they have cosy beds, quality linen and ensuite bathroom with hot shower and botanical toiletries. Plus each tiny house is individually furnished and decorated, so you know your Instagram gallery will impress your friends while you're holidaying eco-consciously.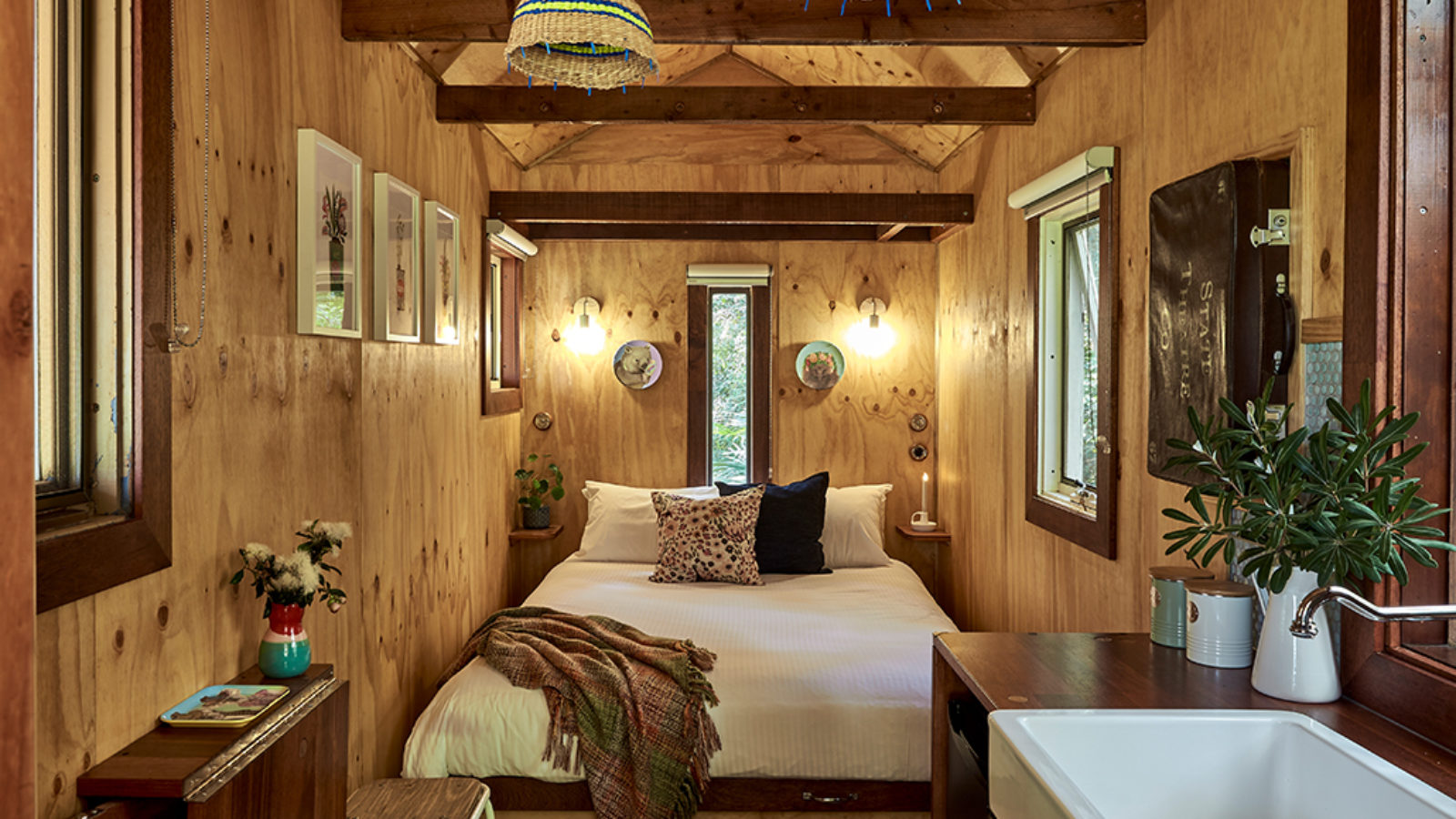 This remote riverside location at Cobark holds a perfectly formed tiny house. Relax and unwind in this exclusive riverside spot where you can swim in the Barrington River or explore the renowned Barrington Tops parklands nearby. Barrington Eco Hut is architecturally designed luxury, with hot shower, composting toilet and outdoor fire pit (firewood supplied). Simplify your life, unwind and escape from the digital world: no wifi or mobile reception, surrounded by just the sounds of nature. But be warned about stargazing… you'll be so surprised by the clarity of the illustrious Milky Way circling above, that you may never want to return to your city lights life.
A tiny house big on quality, this is perfect for couples, friends or even solo. Warm and cosy in winter with an outdoor wood-burning firepit and indoor heating. Perfect in summer with air conditioning and cool breezes from the massive dam and tall trees.
An absolutely stunning outdoor bath on the deck is a truly special place in any weather and at any time of the day
Picturesque country roads lead to this beautiful rural getaway on the Bowman River near Gloucester. Set in the midst of 4.5 hectares with the river just a few easy steps away through the trees, this is a lovely studio space. Comfy and contemporary, you'll relax easily into your stay with its queen sized bed, ensuite bathroom, well-equipped kitchenette, air-conditioning and heating. This is the perfect hideaway set in park-like grounds, and you'll be enchanted by stands of trees, rolling hills and the meandering Bowman River. Find a picnic spot or swimming hole, spot a platypus and enjoy the sounds of the Aussie bush. Conversations are enhanced when they happen around a fire pit against the cool dark of night… what new memories will you make this evening? (Oh my, is that an engagement proposal?)
This tiny cottage was once an oyster purging shed but is now a romantic getaway for couples right by the water. Featuring a newly renovated kitchen and bathroom with a combined living and bedroom area with a comfy kingsized bed. Sit on the deck at sunrise or sunset and imagine the secluded peaceful lives once led by river dwellers here in the Manning River delta.
The Bush Boudoir is an architecturally designed tiny house at Topi Topi, not far from Seal Rocks. It's decorated like no other tiny house you've ever seen: part glamorous French parlour, part gentleman's club with a bit of rustic bush charm thrown in. Of course it's got all the amenities you need, including an indoor-outdoor bathroom and views onto your private patch of bushland and fire pit. The Bush Boudoir is the perfect space for a quiet, romantic couples getaway... it's little bit fancy and a little bit rustic. And if it was a teenager's cubby house, it's definitely the place for that first kiss.
OK, so maybe you'd like to drag some more of your best buddies away from their mobile devices too, and need a slightly bigger space to enjoy your eco-conscious holiday. The accommodation at Bombah Point Eco Cottages offers bigger-than-a-cubby-house luxury accommodation that's architecturally designed for minimal environmental impact and maximum enjoyment. Cottages here feature a queen bedroom, loft bedroom, log fire, rainwater spa bath, fully equipped kitchen, wrap-around verandah, barbecue and hammock. And just ignore the flat-screen TV, afterall you're here to enjoy the absolute beauty of neighbouring Myall Lakes National Park plus the conversations of your loved ones.
These cottages are your childhood treetop cubby house all grown up. Although you're immersed in luxury, you can rest easy knowing that Bombah Point Eco Cottages is built on ecologically sustainable principles. Their aim is to demonstrate how environmentally conscious practices can be implemented without compromising luxury. And that's probably 'just enough' perfection.