A weekend at the NSW Surfmasters at Boomerang Beach.
As a road-tripping, surf-chasing family who have traversed the countryside many times over, we've stumbled upon a place or two in our travels that keeps us coming back for more. One such place is a spectacular region on the NSW lower mid north coast: the Barrington Coast.
When an opportunity arose for us to visit the region for the 2021 NSW Surfmasters event at Boomerang Beach, we were quick to pack the boards, pack the kids, and hit the road. It felt like we were revisiting our very best summer of 1975!
The perfect escape for the adventurous family.
Spanning a huge area from the world heritage Barrington Tops wilderness to the glistening shores of the Pacific Ocean, the region has its share of sights and attractions, offering the perfect escape for an adventurous family.

After an easy 3 hour drive north of Sydney along the Pacific Highway, the route gets scenic as we turn off the freeway and drive along The Lakes Way, a meandering road dotted with lakeside villages, that winds its way along the shores of Myall Lakes and Smith Lake.
It brings us to the secluded coastal wonder of Pacific Palms. 'The Palms' is the gateway to the region's famous surfing breaks and coastal villages. With crystal blue waters surrounded by lush rainforest, it's an oasis of pristine beaches, hidden coves, rainforest walks, and natural beauty.
With a swathe of spectacular beaches that make up Pacific Palms we're spoiled for choice. Including;
Each offers something different, from the sheltered waters of Elizabeth Beach, a favourite among families for swimming, to the famous waves of Boomerang Beach, that draws surfers from around the state to its consistently clean break.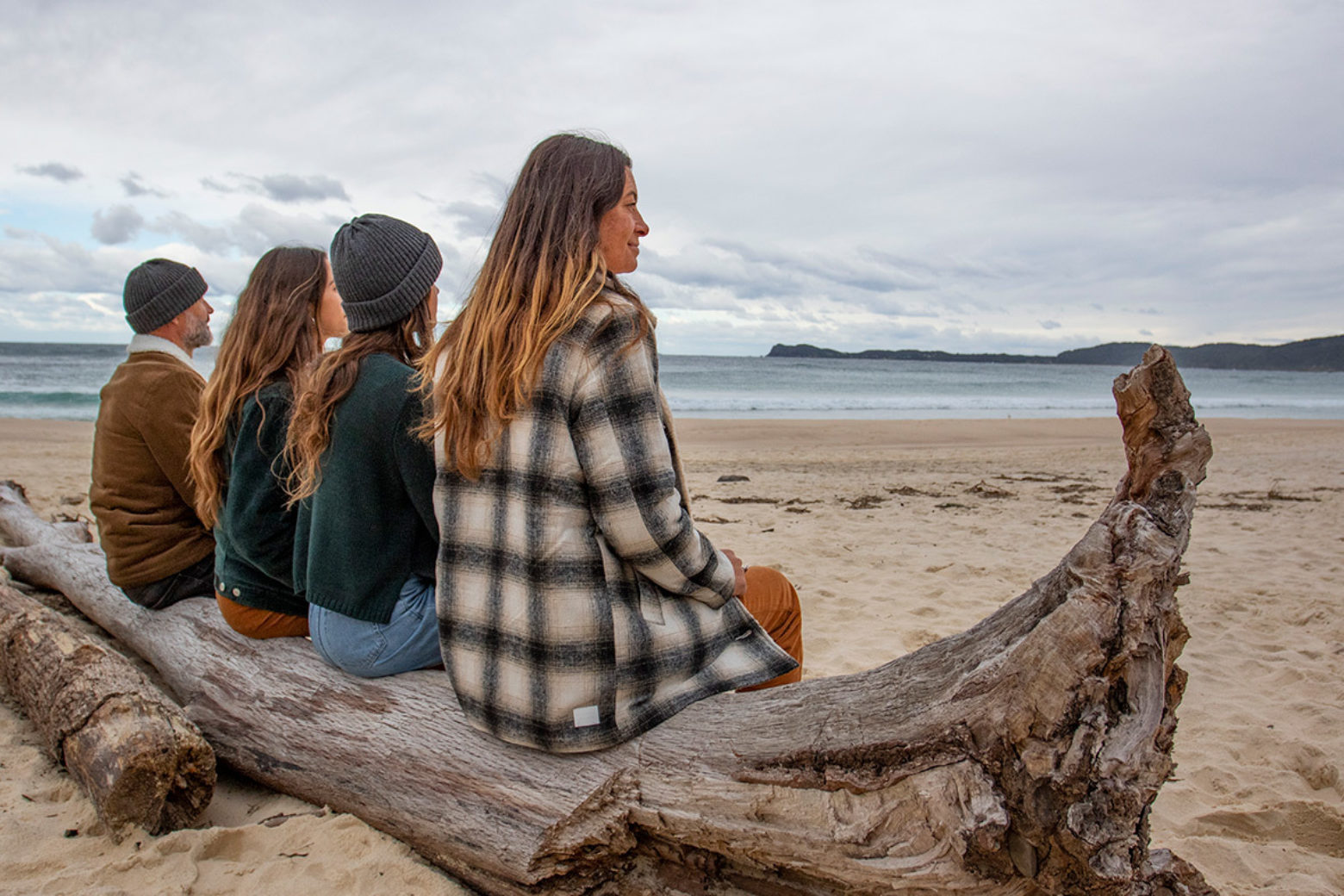 We're keen to explore but first we head straight to Blueys Beach village for the local surf cafe Kembali, to fuel ourselves for the day ahead. With a Bali-esque vibe and exotic Indonesian menu, it's no wonder Kembali is a go-to among locals and tourists alike.
Greeted with blue skies and sunshine, we check in at Boomerang Beach for the 2021 NSW Surfmasters event. The vibe is high, bustling with amped up surfers and spectators all keen for some good competition over the four day weekend. They've come from near and far for this leg of the Surfing NSW schedule, and with clear waters and playful waves rolling in, Boomerang is living up to its reputation.
A short drive north of Boomerang Beach is Booti Booti National Park. It's a unique stretch of coastline that spans an 8km peninsula between Wallis Lake and the Pacific Ocean.
A perfect mix of bush and beach, with its unspoiled beaches, expansive lookouts and walks through the rainforest canopy or along lakeside tracks. We slip on our walking shoes and set out on the Booti Hill Walk.
The 3 hour return journey takes us from Elizabeth Beach, along an undulating track twisting through the shaded rainforest, to a halfway rest point atop Booti Hill headland. The elevated views open up to the raw beauty of the rugged coastline looking back to Shelly Beach, and we pause here to take in the sights.
Continuing along, the track descends to the sands of Seven Mile Beach with views that reach north as far as we can see. The walk immerses us in a healthy dose of greenery and while not overly challenging, it has just enough stair climbing to get our hearts pumping. We're left feeling somewhat accomplished.
With sunset approaching, we head to the nearby Tiona Holiday Park, a secluded palm-fringed paradise bordered by the protected waters of Wallis Lake on one side and the pristine shores of Seven Mile Beach on the other. While we have seen pictures of Tiona with campsites nestled under a shady umbrella of palms, it didn't quite prepare us for this spectacularly unique setting. We find a patch to call our own for the evening and set up camp.
Beckoned by the warm glow of sunset peering through the fronds, we follow a track that leads us to the shoreline of Wallis Lake. With not a breath of wind, the lake is a mirror reflection of the dusky pastel sky above. Visitors are drawn to the magic of these sunset views, as they provide an incredible photographic opportunity, with tripods lined along the banks at golden hour.
Waking early for a sunrise over the sea is something we relish at every opportunity, and so we make our way to Elizabeth Beach for an early morning walk along the sand. Shrouded in a misty haze of sea salt that lingers in the air, the headlands peer through with a defining presence, while the sun breaks the horizon. The beaches along this stretch of coastline share this unique majesty, divided by their rocky outcrops that jut from the ocean.
It's finals day of the 2021 NSW Surfmasters, and the local villages, cafe strips and shops are a hive of activity and energy with crowds that are drawn from around the state to the annual event.
In true form, Boomerang Beach has not disappointed and has turned it on for a great day of surfing competition: blue skies, sunshine, crystal water and clean waves. This is a well orchestrated event with the state's most elite masters of surfing, so we can see why it possesses something of an iconic nature among the surfing community that keeps people coming year after year.

Once the loudspeaker is turned off, the tents are packed down, and the surfing fraternity moves on, it's our time to suit up, and immerse ourselves in the salty blue for a late afternoon session. With a chill in the air, and a hot shower beckoning, we head to a local favourite among the surfing crowd, and treat ourselves to a little luxury at Moby's Beachside Retreat. Kicking back for the evening, we put our feet up in a well appointed self-contained two bedroom apartment, with all the comforts of home.
There's no doubt we'll be marking this weekend on our calendar for next year.
It's no surprise this coastal playground leaves us wanting to come back for more. With so much on offer for young and older families alike, and a special charm that has drawn us in, there will always be something more to explore next time. Until then, the allure of perfect clean waves, and palm-fringed sunsets will be calling us back.

Perfect waves and a palm-fringed paradise that keeps a road-tripping family coming back for more.