Barrington Tops is a must visit destination for those who love four-wheel driving and camping, with an abundance of trails to drive, secluded campsites, waterfalls and lookouts to see.
Barrington Tops sprawls high in the mountains between Scone and Gloucester. Gloucester is the closest to the Tops so make it your basecamp to start your trip. You will need to top up on fuel, food and supplies before you go as there isn't any in the area itself.
Barrington Tops is divided into both national park and state forest, so if you want to take your dog you'll need to stick to the state forest and if you are heading for the national park you will need to pre book your campsite.
The main areas of Barrington Tops are accessible by a 2WD vehicle via dirt roads but you'll need a 4WD if you wish to explore the side tracks and all the area has to offer.
Best time of year to visit.
Barrington Tops is generally open all year around but subject to closure at anytime due to adverse weather conditions. It is important to note that generally all the tracks are open in the summer months but during the winter months NPWS close a portion of the side trails to preserve their condition, meaning there will be much more to explore in your 4WD in the summer months (check NPWS website for exact dates and names of trail closures).
In summer you'll find warmer weather, plenty of icy creeks to cool off in and trails to explore. In the winter the Tops can become extremely cold with 3-4 snowfalls generally occurring per year, you'll need to pack warm clothes and plenty of your own firewood (collecting wood in national parks is prohibited).
As a guide, Barrington Tops is generally 10 degrees cooler than Gloucester temperatures, no matter what the season.

1. Barrington Trail to Junction Pools (easy)
Barrington Trail runs through numerous sections of Barrington Tops, for this section you will be starting not too far from Polblue Swamp and head south off Barrington Tops Forest Road towards Junction Pools.

This trail is not accessible in the winter months due to track closures but makes for a beautiful scenic drive in the warmer months. My favourite time of year to drive this trail is spring due to huge amount of yellow flowers that you pass along the way, giving you plenty of opportunities to stop and have a look around or grab a quick photo. This drive is marked as 4WD only but it is an easy drive for the beginner who will be able to tackle it in any 4wd without worrying about getting stuck.
About 1/3 of the way along the trail you can divert left off the track down to Little Murray camping area which makes for a beautiful spot to pull up for the night. This campground is National Park meaning you will need to pre-book and pay, it is a big open grassy area with a few trees spread out, plenty of room for a group or your camper trailer and every time I've visited this spot there has been plenty of wild brumbies wandering around snacking on the fresh green grass.
If you choose not to venture into Little Murray campground you can continue all the way out to the end of the trail where lies Junction Pools, another beautiful camp spot with a little river flowing through the area that you can have a dip in if you're willing to brave the icy waters or just sit and enjoy the peaceful views.
This trail is one way in and one way out, meaning you will have to head back out the same way you came in.
2. Polblue Ridge Road & Horseswamp Trail (moderate)
Both these trails run next to each other between the main Barrington Tops Forest Road and Tubrabucca Road and are great short little trails with a few challenges you will encounter along the way.
Horse Swamp camping area is a great little spot to spend the night before you tackle these trails and only a few hundred metres from camp you can make the walk along the creek down to the awesome Polblue Falls. Both Polblue Ridge and Horse Swamp trail have a few ruts, mud holes and short hill climbs to tackle meaning it is
best to tackle these tracks with another 4WD or a working winch.
3. North Branch Road (moderate)
This is a popular trail amongst the local 4WDers as it offers a scenic drive through the bushland and a couple of little challenges along the way. The trail begins on your right just over the bridge after you pass the Manning River camping area.
This is one of my favourite campsites in the Barrington Tops, nestled in amongst the trees, there is plenty of spots to choose from and set up at for a couple of nights as you listen to Manning River trickle its way through the rocks right next to camp.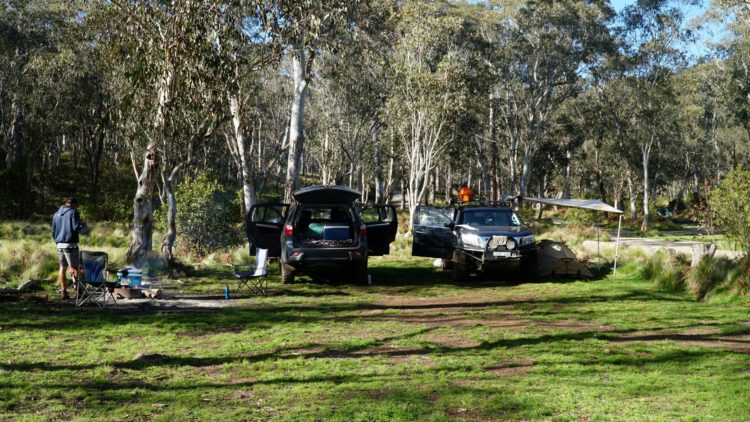 The best thing about this campsite is it is State Forest meaning you can bring your pet and keep your eyes peeled as wild brumbies regularly wander through the area.
Once you are done relaxing at camp and are looking for some adventure you can start making you way along North Branch Road. The drive will take 45-60 minutes depending on how many times you want to stop and enjoy the views, it is best to travel this trail with another 4WD as there are a couple of small muddy sections and hill climbs to negotiate, if you are going solo it is best to have a working winch with the appropriate recovery gear.
If you are after a challenge this is the toughest track you will find in Barrington Tops for the experienced and well equipped 4WDers.
4. Bull Ridge Road/Bull Gully Road (difficult/extreme)
If you are after a challenge this is the toughest track you will find in Barrington Tops for the experienced and well equipped 4WDers.

I would recommend a minimum of 84cm tyres, a locker, a working winch and two 4WDs for this trail.
This trail begins near the Dingo Gate and descends down off the side of the mountain range to the creek and valley below and then ascends back up again to the top of the mountain. Both ways in and out are extremely steep with large rocks, ruts and loose surface to navigate.

As you head down the track you will need to use 1st gear low range, once you arrive down the bottom you will come to a beautiful little creek flowing through the valley where you can stop for a cool off and a bite to eat.
There is a gate at the creek and the track continues across the other side but you are not able to continue this way as it is private property. From your lunch stop you need to head back out the way you came for the first 1km or so before you come to a split in the track, you can return out the same way you came in, or head out the other way, both will take you back up to the main Barrington Tops Forest Road.
Prepare yourself for one seriously steep and technical ascend back up out of the valley.