World heritage listed wilderness, iconic wildlife experiences, and an endless supply of beautiful beaches makes the Barrington Coast a photographer's paradise!
I've put together my favourite instagrammable experiences below so you too can enjoy the best of the Barrington Coast.
You'll find world class beaches here.
With several Barrington Coast beaches regularly featuring in Australia's Best Beaches lists, there's no shortage of stunning sandy spots to swim and snap a photo at. My must see spots are:

1. Watch the sunrise at One Mile Beach, Forster
Nestled in the heart of Forster is my favourite Barrington Coast sunrise spot, One Mile Beach. There's a couple of great options for photos here, at the southern end next to the surf club is a stunning little wooden stairway that winds down to the beach. The staircase provides a beautiful leading line down to the sand and sea and when you combine that with a magical sunrise you've got the perfect start to the day!

The awesome views here aren't just limited to the southern end though, there's a huge sand dune at the northern end with fantastic views back along the beach. It's a great vantage point that not many beaches have and if you're feeling adventurous you can even go sandboarding!
2. Seal Rocks... morning, noon or dusk
Just 40 minutes south of Forster is Seal Rocks and you're spoilt for choice here! There are three beautiful beaches including Number One Beach, Boat Beach and Lighthouse Beach.
For a really unique view you can climb to the top of Sugarloaf Point Lighthouse and get some great photos out over Lighthouse Beach. Make sure you bring a polariser filter for your camera lens, they really help bring out the beautiful blues in the water and the bright white sandy beaches.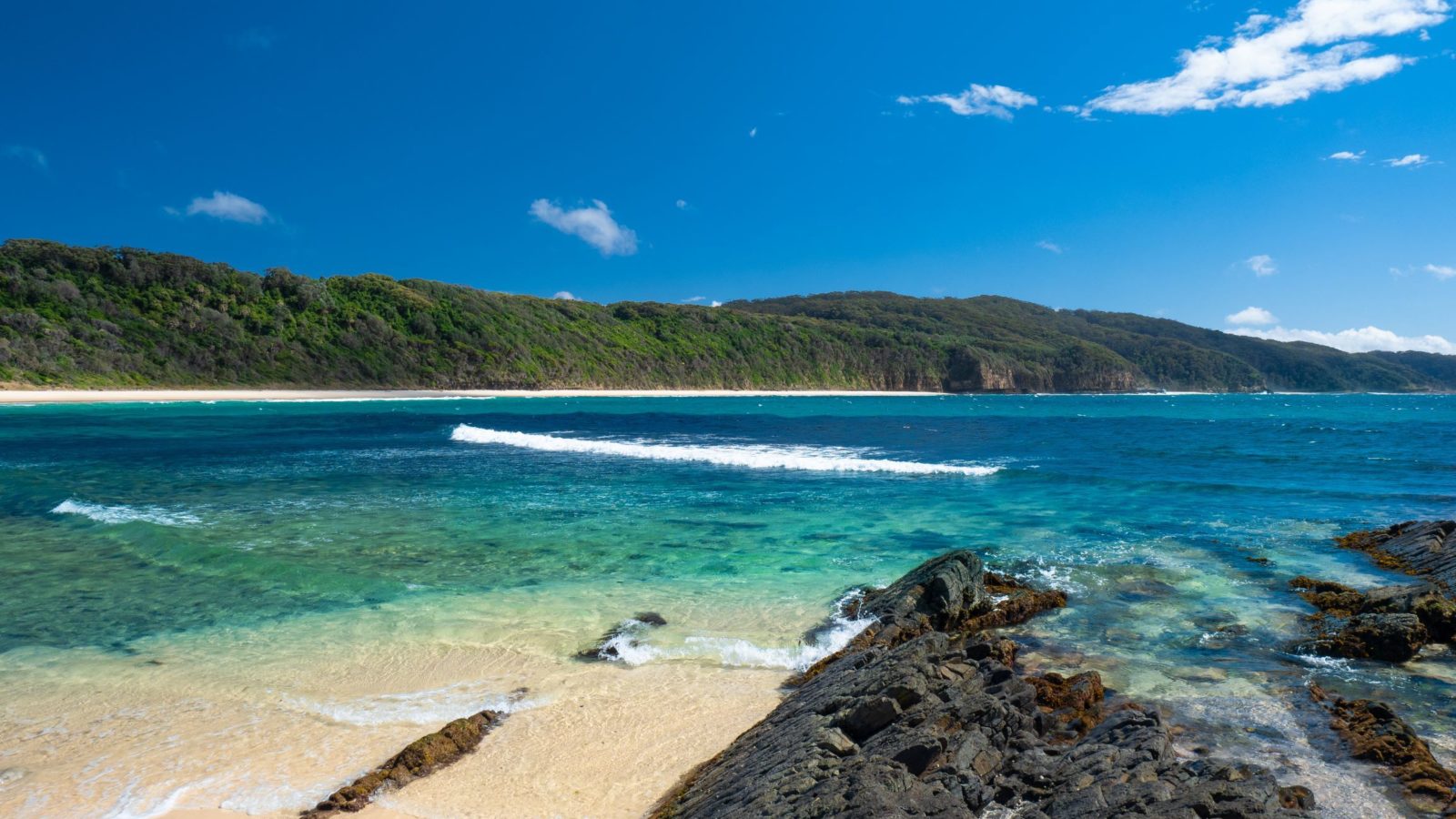 3. Enjoy iconic wildlife encounters
Diamond Head Camping Ground
At the very northern end of the Barrington Coast is Diamond Head Camping Ground situated in Crowdy Bay National Park. Not only is this a sensational camping spot but it's also home to some of the most adorable and photogenic kangaroos you'll ever meet.
They love hopping around the camp grounds and most mornings you can spot them bouncing along the beach. I'd recommend getting there pretty early as they're most active on the beach in the morning.

When it comes to taking photos, if you've got a zoom lens it'll be a big help. If you're trying to get a photo of kangaroos as they're hopping along the beach, I'd use a shutter speed of around 1/800th of a second to start with; and that should help with getting a really nice, sharp image of them. If they're standing still or grazing on the grass, then a lower shutter speed around 1/250th of a second will be fine.
4. Chasing waterfalls and rainforest
For those who love photographing mountains and chasing waterfalls, there's plenty of great options to explore.
Barrington Tops
This UNESCO World Heritage Listed area forms part of the most extensive subtropical rainforest in the world. It's a true wilderness and during the colder months, it can snow up here turning the landscape into a winter wonderland.
The best place to see snow is at the highest part of Barrington Tops around the Polblue picnic area. Just a short drive from Polblue is The Firs, a magical old pine tree plantation that is a dream to photograph, especially when there's some fog rolling through!
Ellenborough Falls
As the tallest single drop waterfall in New South Wales, Ellenborough Falls has to be on your list if you love photographing waterfalls. There's a couple of platforms around the top of the waterfall and another directly opposite that have great views. My favourite is at the base. It's a bit of a walk down to the bottom, but you'll be rewarded with epic views.

If you'd like to get the smooth, flowing effect of moving water in your photos of Ellenborough Falls, you'll need to bring a tripod and ideally an ND filter. A steady camera and long shutter speed are essential for this type of shot.