A guide to deluxe camping in the Barrington Coast.
Looking for that perfect point where nature and comfort meet? Glamping lets you immerse yourself oh-so-stylishly in the bush and under the stars. But who cares if you can't put up a tent, here's a range of glamping options in the Barrington Coast where you can wheel your bags right into a dreamy set-up. Camping cocktails anyone?
Myall River Camp is a serene, sustainable riverside bush retreat at Hawks Nest. It's a place to connect with nature, unwind and explore. Perfectly located, it's just a stone's throw to white sandy beaches and Myall Lakes National Park. No matter your taste or budget, the picturesque campsites, rustic tiny homes or luxurious glamping tents are just what you need to unplug from modern life. Indulge in this glamourous spin on camping with safari-style tents suitable for any movie star with all the conveniences you crave. And if prefer, swap your canvas-covered dreams for one of the supremely comfortable tiny eco homes on wheels. You'll holiday sustainably in style at Myall River Camp.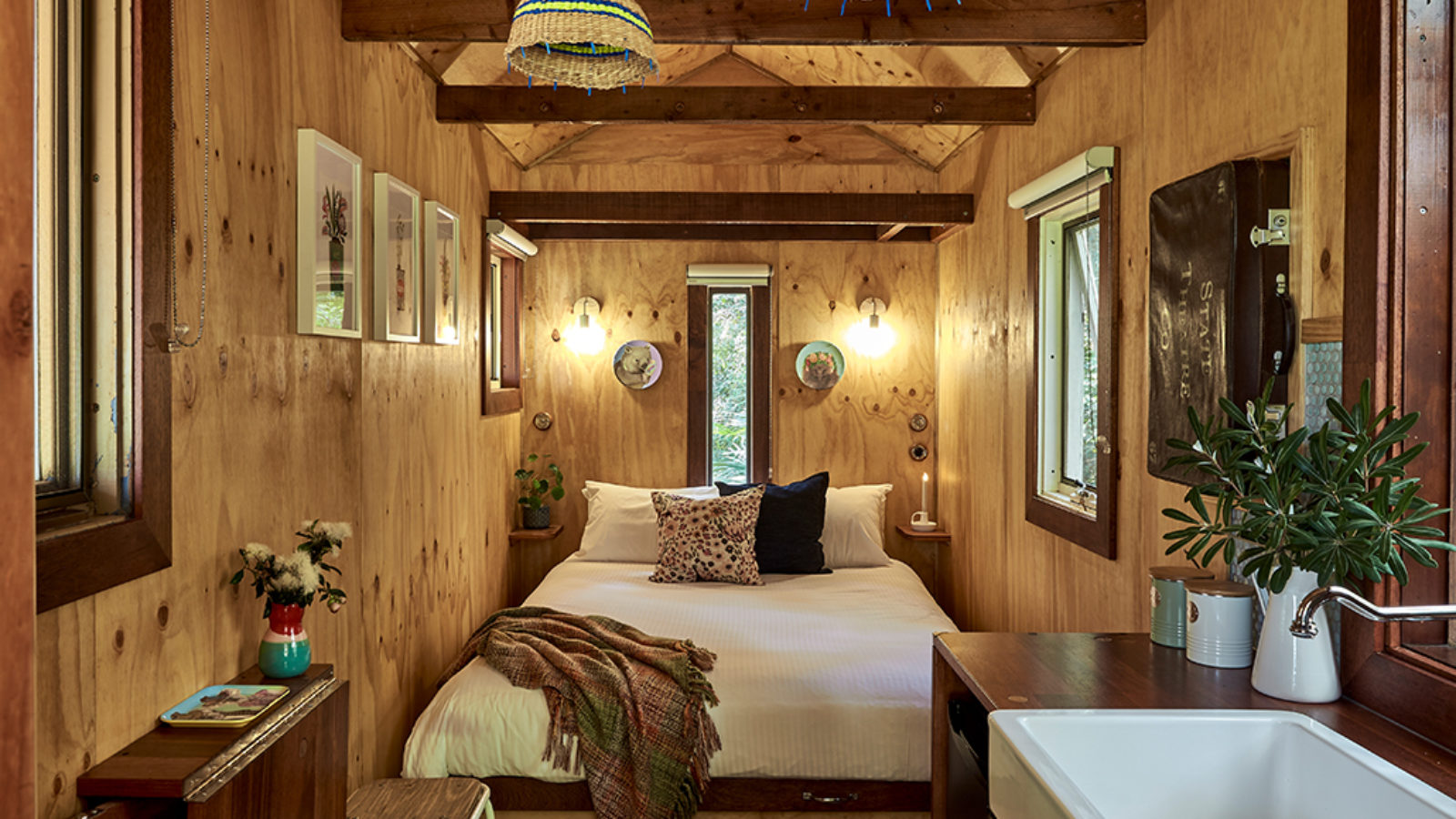 This is a luxury eco glamping experience on the banks of the Manning River near Gloucester. Being for adults only, Amaroo Escape is the ultimate couples retreat where you can immerse yourself in the natural beauty of this private property set on 180 hectares. Each luxury tent features a super-comfy king bed with custom kitchenette and ultimate ensuite bathroom experience offering every indulgence. Amaroo Escape is designed to allow the beauty of nature and the landscape to dominate, while providing layers of well-appointed luxury. Is this what camping on a luxurious cloud feels like?
Simple Pleasures offer fully-furnished bell tents that easily conjure up romantic notions of desert wanderers on white steeds but without the effort of setting up camp. These are truly stylish tents, completely set up for your holiday pleasure with comforts such as bedding, linen, floor coverings, lighting, cookware, utensils and gorgeous outdoor furniture. Upon your arrival all you need to do is drop your bags and relax. They're currently set up in an exclusive area of Sandbar Campground, in a private area reserved just for their glampers. With private bathrooms and a short stroll from stunning Cellito Beach, this is camping with a difference! So settle back with your first cocktail under the fairy lights provided, with your campfire as comfy companion.
This award-winning holiday park keeps getting better and better, and their latest addition will surely bring them more accolades. They're taking glamping to new heights - literally – with their treehouse glamping tents set 3 metres off the ground. Set amongst the cabbage palm rainforest by the lakeside of beautiful Wallis Lake, you'll wonder how Tarzan and Jane ever got by without the luxury of these glamping tents.
If glamping is described as camping with lots of extra touches, then here's a deluxe version with the lot. This glamping experience has a flavouring of country-western, where you can stay in fully furnished American-style tipis and even paint a pony. Kings Creek Retreat is an absolutely unique glamping experience for small groups from 10-24 people. It boasts a fully equipped kitchen, barn-sized games room, arcade games, juke box with 7,000 songs, lawn games, swimming pool, wood fired pizza oven plus an undercover podium for that Shania Twain "Man, I feel like a woman" musical moment. To complete your country-western getaway you can create your own dream catcher or feather head dress and yes, give Hopi the pony a colourful makeover. Country-western glamping will be the next big thing, especially when it's as much fun as this!
Who said you had to be isolated to enjoy a glamping experience? This is a big happy surprise from a much-loved holiday park on the lakefront at Tuncurry. Spoil yourself with a little luxury for a little price, in their affordable safari-style glamping tents. Set around tropical gardens with a deck overlooking the quiet lap pool you'll easily unwind. These tents are good for families, they sleep up to 4 people, featuring open plan room with queen bed and canvas wall separating the bunk beds. And while the kids are busy at the many awesome amenities of this holiday park, you can soak up the luxury in your deluxe bath tub. Seems everyone will be happy tonight.
OK, enough of the tents, how about some glamourous eating? Here's something to make your friends' jaws drop and ensure your glamping getaway will always be remembered. Delivered to your holiday accommodation or your preferred picnic spot, you'll indulge in 'wild luxe' grazing tables, picnic spreads, oversized platters and food boxes, all full of local gourmet goodness from the Barrington Coast. You'll all feel like Instagram influencers at play!