Who cares if you huff'n puff when exercising?
Fresh air, fun and fitness are always a good combo, even on a short break. Want some wow to go with the puff? Then skip the stinky gym and head out to one of these.
Here are our 8 picks to get out of the gym and into nature to work out. Think: mountain biking, kayaking and a range of scenic hikes. So while you pre-stretch and do some deep breathing, here are our top outdoor exercise ideas from across the Barrington Coast region. Get set, go!
1. Pilot Hill Lookout
If leisurely seaside strolls with awesome views are your idea of joyful exercise than add the Pilot Hill break wall to your list of things to do in Harrington. Mosey up to the Pilot Hill Lookout and admire the Manning River delta fanning out below and pay silent homage at the graves of pilots who lost their lives guiding boats across the sandbar back in the day. A simultaneously moving and mesmerising moment.
2. Stand up paddle boarding on Wallis Lake
They say saltwater is a cure all and in the case of stand up paddle boarding we'd have to agree, especially on the beautiful waters of Wallis Lake. Once you've mastered the art of staying vertical on a moving body of water that is! Honestly, it's not that hard to balance and yes, you may fall but it's all part of the fun. Check out the range of SUPs for hire at Boatshed Number One in Forster. They've even got see-through kayaks for those who like to sit and paddle!
3. Ascend the Yacaaba Headland
The walking track at Yacaaba Headland features stunning views of the Barrington Coast's prettiest beaches. Suitable for beginners to advanced hikers, the track offers up an array of birdlife and to the astute eye. On a clear day the distant mountain ridges of Barrington Tops are visible, so you can really enjoy the 'mountains to the sea' theme of the region. Take plenty of photos and immediately become the envy of those you left at home.
4. Step up to Cape Hawke Lookout
Located at the northern tip of Booti Booti National Park, the Cape Hawke Lookout is reached via a gentle 500m hike through coastal rainforest. During whale watching season (May – Oct) be sure to keep a keen eye at sea to catch the whales breaching. The lookout offers more steps to get your heart rate pacing but the reward at the top is 360-degree views of mother nature showing off to be honest. Disagree? Fight me.
5. Paddle about on Myall Lake
Serenity now. How about a relaxed kayak cruise on Myall Lake? Or, perhaps you're more inclined to take on a pace setting river adventure. Speak to the team at Lazy Paddles and they'll sort you out with a hire kayak to suit your needs asap.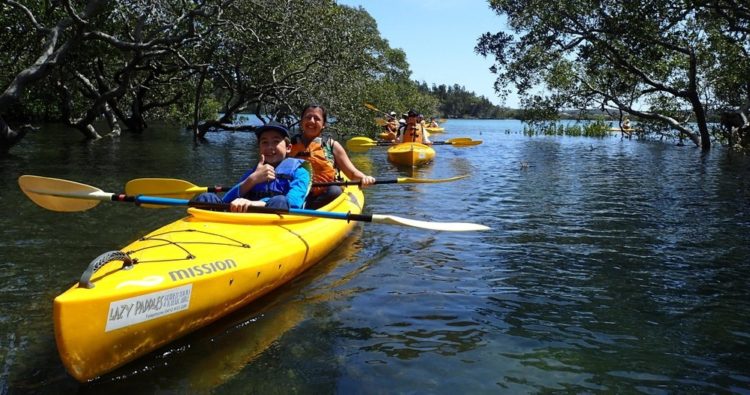 6. Mountain biking and gravel grinding
Mountain biking is a popular activity for adrenaline junkies who adore the great outdoors. We have quite a few rides within the Barrington Coast that will appeal to mountain bikers and gravel grinders of all abilities, so many in fact there's a whole story about it, read more here. But for an easy peasy family day of riding the trails, make The Steps Barrington Campgroundyour first stop, a purpose-built biking facility with 3.5km of cross-country trails. Get just a little sweaty and you'll have fun too.
Want more action? Then check out the fast and furious downhill trails at the new Barrington Bike Park loocated just above The Steps Barrington Campground.
7. Underwater love
Pack your snorkel gear and go directly to Number One Beach at Seal Rocks. It's a great spot to snorkel with friends and family! Be treated to a showcase of fish species and you may even spot the occasional green turtle or wobbegong if you're lucky. You don't need to be super fit to take part in this activity. As long as you're a decent swimmer and stick close to shore you're winning.
Tip: Check out the Top 5 places to snorkel in the Barrington Coast.
8. Into the wild at Careys Peak
Perhaps you're keen for an outdoor adventure that will leave you feeling both exhilarated and extra fit? Good, because the summit of Careys Peak is reached by a 12km hike that winds and climbs to the highest lookout in Barrington Tops at Careys Peak. Pack plenty of water, sturdy shoes, healthy snacks and of course, your camera!

Tip: it's that same 12km descent back down so pace yourself accordingly.
If you're heading to Barrington Tops the best approach is via Gloucester on the eastern side, stop for fuel, provisions, a coffee or a meal on your way through.